Lillard finally made the decision, now everything is in the hands of the Blazers.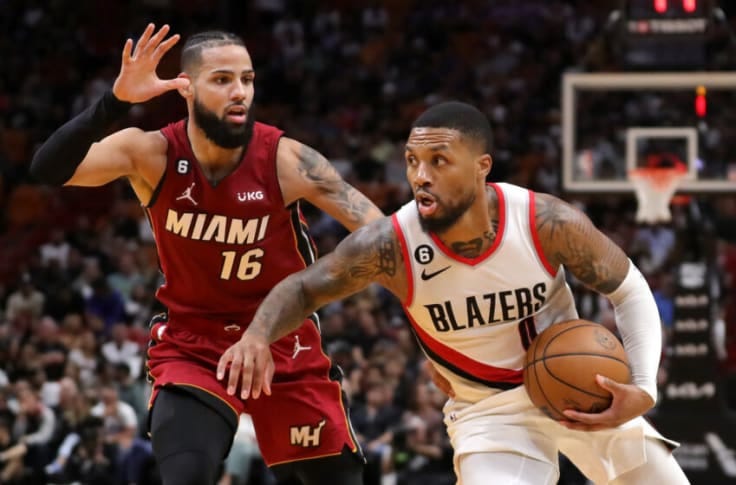 The Damian Lillard – Miami Heat saga has just begun officially following Lillard's request to be traded out of Portland.
There are some teams in the mix for his services, including the Brooklyn Nets, Philadelphia 76ers and even San Antonio Spurs.
However, the Miami Heat have clearly been at the front of the sweepstakes for quite some time now.
Lillard's preferred destination is the Heat. For months now he has been HEAVILY linked to Miami rumors. He spoke on a podcast and mentioned the Heat would "obviously" be his number 1 choice if he were to play elsewhere.
At the time though, everything was hypothetically speaking.
Now, the time has finally arrived.
Lillard reportedly has his sights only on Miami, and is prepared to be playing for them this upcoming season. It is 'Heat-or-bust' in the eyes of the superstar point guard.
He has also reportedly been in contact with Heat players over the last few days.
Two of them most likely having to be both Jimmy Butler and Bam Adebayo, who are close with Lillard and would love to see him rep a Miami jersey on route to another deep playoff run.
Woj reported just today that Portland doesn't have to listen to Lillard and send him to his preferred destination.
That report contradicts prior ones, that actually mentioned Portland would take care of their beloved star player.
The Portland Trail Blazers are NOT obligated to listen to Dame, but with the loyalty and work he has put in both on and off the court to Portland, it just seems wrong of the franchise to not want to accommodate one of the best players in their entire team history.
It seems like the Woj reports are just a smoke screen. Obviously lots of media personalities would like to drag this out and have more headlines to publish.
At the end of the day though, Portland has to do what is best for their franchise.
A 3rd team being involved in these trade talks is a likely scenario in any potential Heat trade for Lillard.
Portland was rumored to not be so high on Tyler Herro, but if a 3rd team like say the Brooklyn Nets or San Antonio Spurs get involved, they can take on Herro and send other draft picks and/or players to the Blazers.
It seems inevitable that Lillard somehow finds his way to the 305, but it will absolutely be easier said than done to unload a player of his caliber.