Lillard, agent Aaron Goodwin could face discipline if they keep pushing for only wanting Heat trade.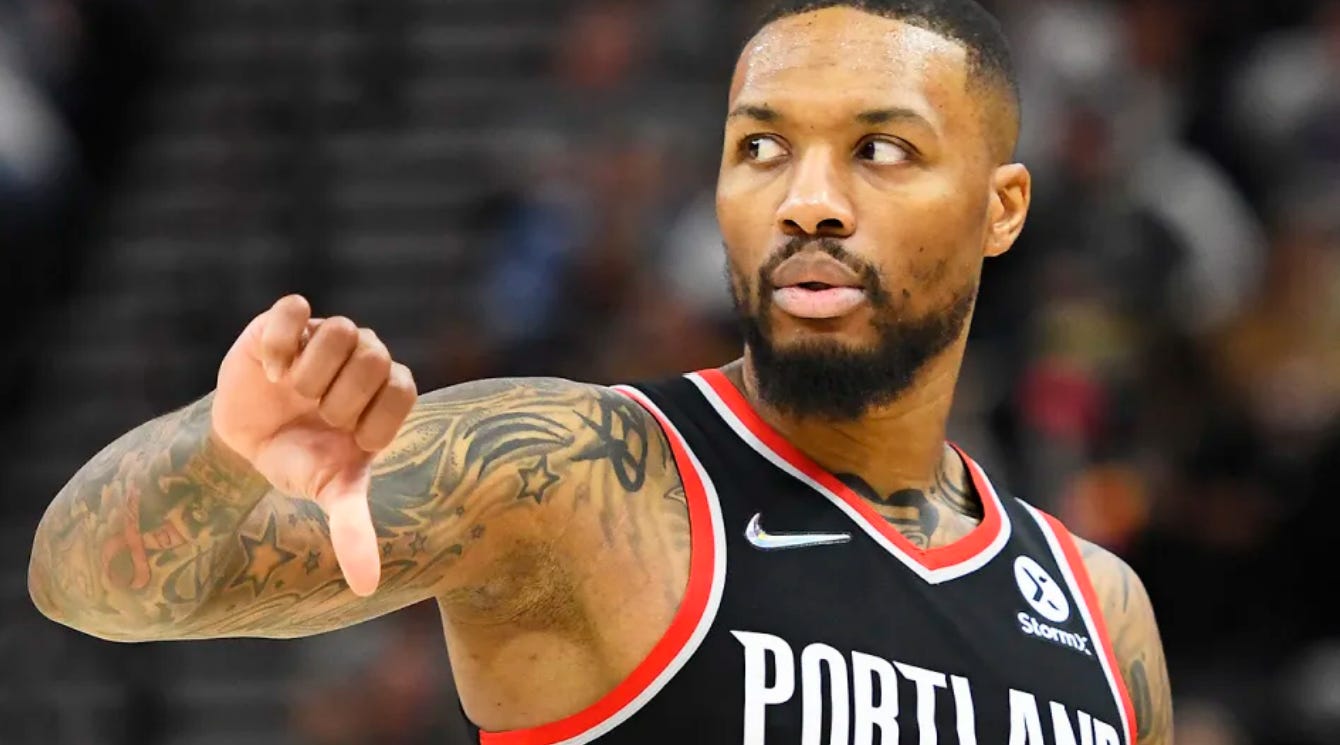 When Damian Lillard requested a trade from the Portland Trail Blazers on July 1, he and his agency made it clear that he wanted to be moved to one team and one team only: The Miami Heat.
His agent Aaron Goodwin went so far as to reportedly warn other teams that Lillard would be unhappy if he suited up for another team that's not the Heat.
"As Cronin explores the broader landscape, Lillard's agent, Aaron Goodwin, has been calling prospective trade partners and warning against trading for his client," ESPN NBA insider Adrian Wojnarowski reported in early July. "Goodwin is telling organizations outside of Miami that trading for Lillard is trading for an unhappy player. As interference goes, this is a time-honored agent maneuver to depress offers and clear a path to a predetermined destination.

"General managers who talked with ESPN suggested that pressure won't impact how they'll proceed. They would have Lillard under contract for four years, and believe his default mechanism would remain playing hard and well."
It looks like the NBA has had enough.
According to Shams Charania of The Athletic, the NBA sent a memo to all 30 teams regarding the media rhetoric surrounding Lillard's trade request, illuminating that future comments from both parties—as well as other players and agents in the future—about requesting a trade to one team profusely could result in discipline.
"The league advised both Lillard and Goodwin that any future comments of the sort, as far as him wanting to only play in Miami, will potentially subject him to discipline," Charania said Friday. "As well as a warning of the [National Basketball Players Association], that any future comments by players, their agents about that are similar to the ones of 'I only want to play for this specific team' in a trade request, could also be subject to potential discipline as well."
Charania also notes that the league spoke to Goodwin and Lillard, and that Goodwin denied any allegations of telling teams his client would only play in Miami.
Here is what Goodwin told the Miami Herald in early July, regarding Lillard's preferred destination.
"I do what I should for my client," Goodwin said to the Miami Herald's Barry Jackson. "Some teams I did call. Other teams have called me. It's a respectful relationship with most teams. Truthfully, he wants to play in Miami. Period."
Here is the full memo, according to Chris Haynes.
"Recent media reports stated that Damian Lillard's agent, Aaron Goodwin, called multiple NBA teams to warn them against trading for Lillard because Lillard's only desired trade destination is Miami. Goodwin also made public comments indicating that Lillard would not fully perform the services called for under his player contract if traded to another team.

We interviewed Goodwin and Lillard and also spoke with several NBA teams to whom Goodwin spoke. Goodwin denied stating or indicating to any team that Lillard would refuse to play for them. Goodwin and Lillard affirmed to us that Lillard would fully perform the services called for under his player contract in any trade scenario. The relevant teams provided descriptions of their communications with Goodwin that were mostly, though not entirely, consistent with Goodwin's statements to us.

We have advised Goodwin and Lillard that any future comments, made privately to teams or publicly, suggesting Lillard will not fully perform the services called for under his player contract in the event of a trade will subject Lillard to discipline by the NBA. We also have advised the Players Association that any similar comments by players or their agents will be subject to discipline going forward."
This is a developing story. Stay tuned for updates.