Butler could ask for long-term extension 'beyond Jaylen Brown money'.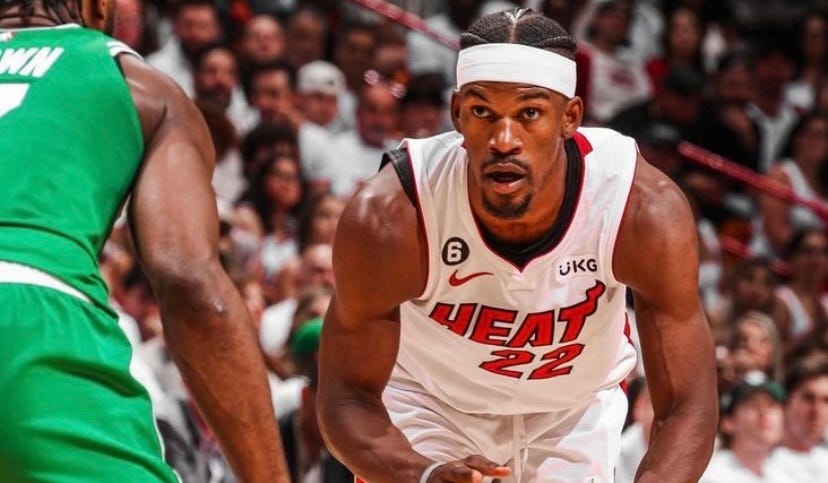 Jaylen Brown of the Boston Celtics became the richest man in NBA history by agreeing to a five-year $304 million supermax deal. Jimmy Butler hopes to get into that price range for his next extension talks in Miami.
Butler is currently under contract for the next two seasons and then has a $52.4 million player option for the 2025-2026 nba season.
According to Ira Winderman of the Sun Sentinel, Butler will be looking "for an extension soon enough, in essence asking for something even beyond Jaylen Brown money."
The problem is that by the time Butler's player option comes up before that 2025-2026 season, he will be 36 years old.
Brown hasn't even hit his prime yet, so it's a whole different ballpark to offer max money to a player that is around 10 years older and in a different phase of their careers.
However, with the market and salary cap limits continuously changing and players getting bigger and bigger contracts, it could be possible.
After all, Butler has cemented himself as one of the best Miami Heat players of all time.
In four years, he has been to 3 Eastern Conference Finals and 2 NBA Finals. In the process he has had some absolutely huge moments and legendary statistical performances.
After years of mediocrity following LeBron James departure, Butler has put Miami back in the spotlight.
Even to the point that now other All-NBA talent (Damian Lillard) is trying to pave their way to coming on board in South Beach in this championship window during Butler's mid 30's.
If he is able to deliver a championship to the city before his current contract is up, that just justifies Butler's next contract negotiations even more.
Getting that supermax extension is easier said than done. It should revolve around individual performance, team success, and availability.
Butler seems like a player who could very well age like fine wine, similar to the "father prime" era with Dwyane Wade.
Keep in mind there will be other major pieces on the roster involved to keep Butler as an affective talent for the foreseeable future.
Pat Riley and Heat front office learned the hard way what low balling a franchise legend can do, such as when Wade walked to join his hometown Chicago Bulls in the summer of 2016.
Assuming Butler opts out of his $52.4M player option in 2025-26, he would be eligible to sign a three-year max that could be worth up to $186.6M. That could make much more sense at his age than another longer term extension such as Jaylen Brown's.
Anything can happen from now to the time Butler is due for another pay day, but it will just be natural instincts for everyone involved to be hesitant on giving long term max money to a 36 year old player.