The great Pat Riley clears things up on who the real Miami Heat GOAT is.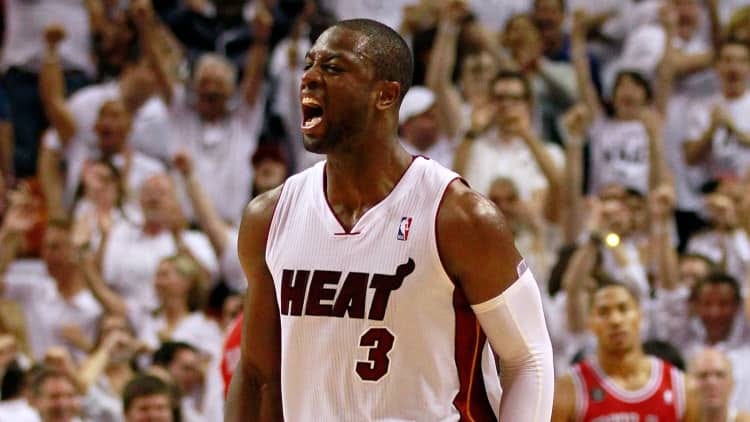 With Dwyane Wade being officially introduced into the NBA Hall of Fame this upcoming weekend, Pat Riley had a few words to share on Wade's legacy.
From Bleacher Report, Riley stated:
"Dwyane (Wade) is the greatest player that ever played for the Heat, and that's not an insult to LeBron."
This should come to no surprise to anybody.
LeBron James teamed up with Dwyane Wade and Chris Bosh in the summer of 2010, and he was able to secure both back-to-back league MVP's and championships in the 2012 and 2013 seasons.
This statement is no knock on James, his greatness, or what he was able to accomplish in Miami.
However, the conversation with James is more of a greatest player of All-Time in general. Not specifically the greatest "Heat" player of All-Time.
Wade was able to do a lot more for this franchise, because of his loyalty and commitment to the organization.
Wade played 15 seasons in South Beach, as James only played 4 seasons and then went back to Cleveland.
In 2006, Wade secured an NBA championship without LeBron James, in just his third season in the NBA.
He was also a huge reason that Miami even stayed relevant for years after until James came on board.
A lot of NBA fans forget that Wade was a serious MVP level basketball player in this league for a long time. In the 2006 season, he could've been the best player on the planet.
After going down 0-2 to the Dallas Mavericks, Wade went off and put the team on his back with multiple 40+ point performances.
The team went on to win the next 4 straight games of the series on route to the franchise's first championship.
This man brought so many cherish-able memories to the 305.
Including championships, game winners, playoff runs, All-Star appearances, and much, much more.
He was a true Heat Lifer; an icon to the city. People didn't call it "Wade County" for nothing.
All of Heat Nation hopes Wade enjoys his special weekend. He retired a Heatle, had his jersey raised into the rafters, and now finally gets his Hall of Fame berth done.
This man will go down as one of the best shooting guards in history.
As quoted by the great Pat Riley, he will be remembered as the "greatest player that ever played for the Heat."