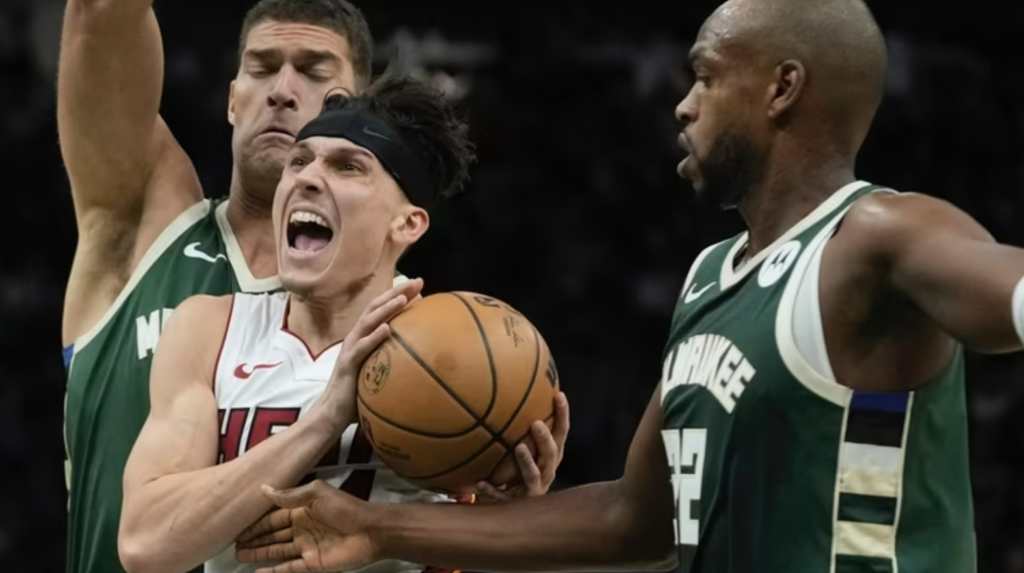 So close, yet so far.
The Miami Heat, down Bam Adebayo and Caleb Martin, entered the fourth quarter down 97-73 without any consistent half-court offensive execution. With 10:18 left, that Bucks lead buoyed to 25 points. But a valiant Heat effort — a 26-7 run, to be precise — brought them to within six with less than two minutes remaining. The lead quickly jumped back to 11 before a pair of Tyler Herro free throws plus a Duncan Robinson fadeaway triple (over two people) cut it back to six with 28.1 seconds left, prompting a Bucks timeout.
Giannis Antetokounmpo's five-second violation on the following ATO SLOB creaked the door a little more open for Miami. Though a Herro above-the-break triple on the ensuing possession rimmed off, preventing not just another Heat clutch game (defined as a score differential of five or fewer points with less than five minutes left), but another monstrous comeback against the Milwaukee Bucks in Fiserv Forum.
Miami's comeback effort came from a combination of Herro, Robinson, Nikola Jovic, Orlando Robinson, Jaime Jaquez Jr., Kyle Lowry and Josh Richardson, who played 23 minutes in his season debut Monday. It came against most of Milwaukee's starters, including Giannis Antetokounmpo, Damian Lillard and Brook Lopez.
Herro finished with a game-high 35 points and was Miami's only real semblance of offense throughout most of the game, knocking down 12 of his 21 attempts and nine of his 10 attempts from the free-throw line. That came in addition to eight rebounds, three assists and one steal. Duncan Robinson had 15 points on 3-of-7 shooting from deep. Jimmy Butler had another uninspiring outing, tallying just 13 points, four rebounds and four assists in 29 minutes.
Orlando Robinson and Thomas Bryant combined for 21 points on 8-of-14 shooting; both were the primary assignments on Antetokounmpo, Monday … no, that's not a typo. Damian Lillard tallied 255 points on 7-of-14 shooting for Milwaukee, while Antetokoumpo had 33 points on 12-of-21 shooting and 8-of-11 from the charity stripe.
Miami outscored Milwaukee 41-25 in the final period, its highest-scoring quarter of the season, after having not tallied 29 points in any of their first three quarters. It shot 47.7 percent from the floor and 38.2 percent from distance; conversely, the Bucks knocked down 50.6 percent of their attempts and 32.4 percent of their triples.
It was not an aesthetically pleasing watch, but there were some positive takeaways–such as the player- and ball-movement from the Heat's second unit with their backs up against the wall.
The Heat return home Wednesday to take on the Brooklyn Nets at 7:30 p.m. EST on Bally's Sports Sun.