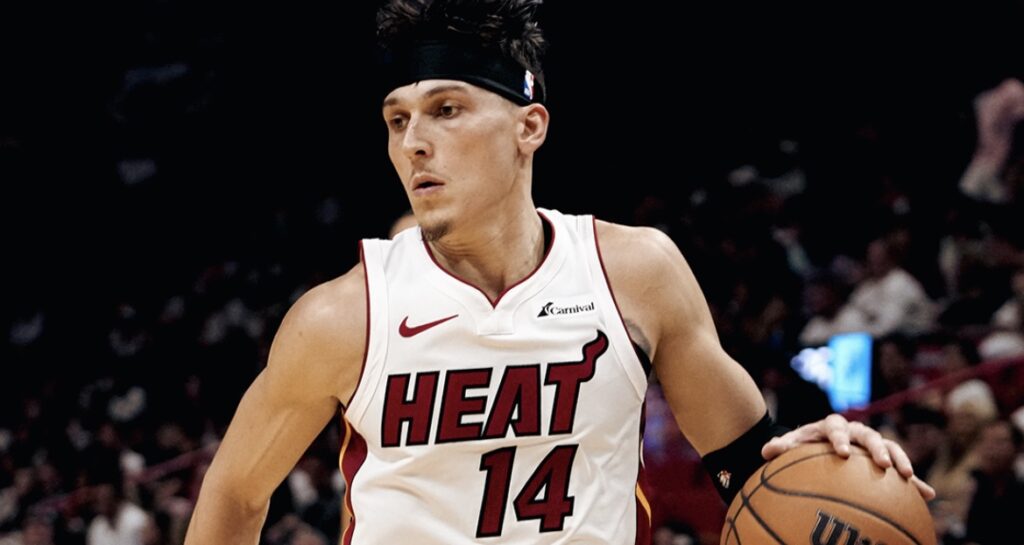 After opening the 2023-2024 NBA season with a 1-4 record, last place in the entire Eastern Conference for a couple days, the Miami Heat have responded.
They are coming off back to back wins at home against the Washington Wizards and LA Lakers. Now, they head back on the road to face off with the struggling and injury riddled Memphis Grizzlies.
Miami will try to pick up their first road win of the season against the 1-6 Grizzlies.
Starters Ja Morant (suspension) and Steven Adams (season ending knee surgery) will not be available for Memphis tonight.
Although this Grizzlies team has struggled thus far, they still have a formidable lineup of names even without Morant and Adams.
They are coming off their first win of the season against the Portland Trail Blazers the other night, and guys like Marcus Smart, Desmond Bane and Jaren Jackson Jr. are all capable of stealing a win from an opponent any given night.
Smart especially has some bad blood with this Miami Heat team, who he has personally seen in the Eastern Conference Finals 3 times in the last 4 years back when he was still with the rival Boston Celtics.
Bam Adebayo is coming off the greatest performance of his entire career. The All-Star big man posted a 22 point, 20 rebound and 10 assist triple double in the win against the Lakers. He also had 2 blocks, 2 steals and shot the ball right below 50%.
The big three of Jimmy Butler, Adebayo and Tyler Herro combined for 72 points in that game.
Something that is now worth noting is that there is officially a new starting PF in the Heat's lineup; Haywood Highsmith.
Highsmith's insertion has benched veteran Kevin Love, and he hasn't seen any action since the move was made.
Love will surely be getting opportunities moving forward, but at his age and minor injury problems to begin the season he may be more of a plug and play type role player when needed.
Teams like the Milwaukee Bucks are perfect for some Love playing time to match up against the size and rebounding of their big front court.
He can still grab boards, spread the floor with his 3 point shooting and bring out those signature outlet passes.
However, Highsmith has been poised for a more significant role on this team ever since training camp.
He looks like he has put in lots of work to improve that jump shot and turn into a serious 3 & D threat. The thing that has been noticeable as a fan is the similarities in Highsmith's game to PJ Tucker.
Similar build, similar height as an undersized PF, elite defensive ability and now an affective 3 point shooter. Highsmith has shot the ball at a career high clip thus far.
Highsmith is 9 years younger than Love at just 26 years old compared to Love at 35 years old.
To pull out this win and extend to a 3 game winning streak, the Heat need to get the job done on both ends of the floor tonight.
Besides just Miami's big three, there also needs to be a couple other guys who can step up and contribute some big minutes.
Guys like Duncan Robinson, Thomas Bryant and even Jaime Jaquez Jr. have been able to provide that as of late.
Tonight's game will tip off at 7:30 PM ET on Bally Sports Florida.
Injury Report (at the time of this publishing):
Miami Heat:
Caleb Martin (knee) — OUT
Jimmy Butler (knee) — Probable
Nikola Jovic (illness) — OUT
Jamal Cain (illness) — OUT
RJ Hampton (g league) — OUT
Cole Swider (g league) — OUT
Memphis Grizzlies:
John Konchar (hip) — Doubtful
Ja Morant (suspension) — OUT
Steven Adams (knee) — OUT
Brandon Clarke (achilles) — OUT
Derrick Rose (knee) — OUT
Xavier Tillman (knee) — OUT
Vince Williams Jr. (g league) — OUT
Jake LaRavia (g league) — OUT
GG Jackson (g league) — OUT
Projected Starting 5:
Miami Heat:
Kyle Lowry, G
Tyler Herro, G
Jimmy Butler, F
Haywood Highsmith, F
Bam Adebayo, C
Memphis Grizzlies:
Marcus Smart, G
Desmond Bane, G
Ziaire Williams, F
Jaren Jackson Jr., F
Bismack Biyombo, C
Betting Lines (at the time of this publishing):
Broadcast Info:
Tipoff: 8:00 PM EST
TV: Bally Sports Sun (Eric Reid, John Crotty)
Radio: AM 560 Sports WQAM & The HEAT Radio Network (Jason Jackson)
Spanish Radio: WAQI 710 AM & The HEAT Spanish Radio Network (José Pañeda)
Come back to Hot Hot Hoops at game time to join our GameThread and chat about the game live with other Heat fans!
Thank you for reading Hot Hot Hoops – Miami Heat NBA Blog. This post is public so feel free to share it.