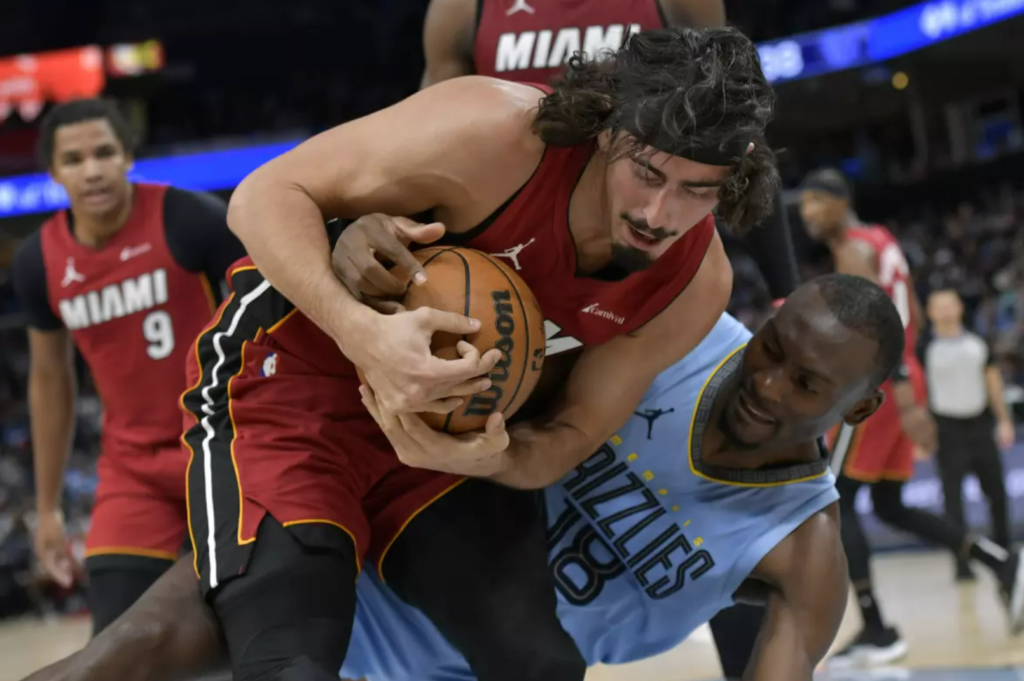 After the Miami Heat nearly squandered an 11-point lead with 1:55 left, rookie Jaime Jaquez Jr. came up huge for Miami like he has within multiple different pockets of time to begin his NBA career.
Up 105-102, Jaquez buried a corner triple–off a swing pass from Duncan Robinson–with 18.1 seconds left. Jaren Jackson Jr. was not able to make it a 3-point game after missing a 27-foot pull-up 3-point attempt with less than 10 seconds left, etching Miami its third straight victory and their first win on the road this season.
Sealed the W 🥶 https://t.co/rhhsqnga5l pic.twitter.com/7KjEytuRcE

— Miami HEAT (@MiamiHEAT) November 9, 2023
Coming off a 22-point, 19-rebound (yes the NBA took one away … for some reason), 10-assist triple-double Monday, Bam Adebayo followed up with 30 points–16 in the fourth quarter–11 rebounds and three blocks on 8-of-15 shooting, including 14-of-16 from the charity stripe.
Bam followed up his big triple double with a dominant double double, scoring 16 of his 30 points in the 4th 💥 pic.twitter.com/ZYDXGDIYLN

— Miami HEAT (@MiamiHEAT) November 9, 2023
Tyler Herro sprained his ankle toward the end of the first quarter. He finished with just six points on 2-of-4 shooting in eight minutes. Amid his absence, Kyle Lowry stepped up for 17 points, 11 rebounds and nine assists on 5-of-11 shooting. Jimmy Butler had 15 points on 5-of-13 shooting, while Haywood Highsmith had 14 points, two steals and three blocks.
Miami collectively shot 45.5 percent from the floor, including 11-of-28 (39.3 percent) from 3-point range and 27-of-32 (!!!) from the free-throw line. Memphis struggled offensively, knocking down 38.9 percent of their shot attempts and just 29.7 percent from 3-point range. Jaren Jackson Jr. finished with 28 points on 9-of-18 shooting. Desmond Bane had 15 points on 4-of-16 shooting while Luke Kennard had 13 points and 3-of-6 from distance.
The Heat's third straight win comes in the first game of a stretch where they have nine of 10 on the road. Meanwhile, Memphis has dropped seven of its first eight games and are just 0-4 at home. Miami will travel to Atlanta to face the Hawks on the the first leg of a back-to-back Saturday.
This is a developing story. Stay tuned for updates.