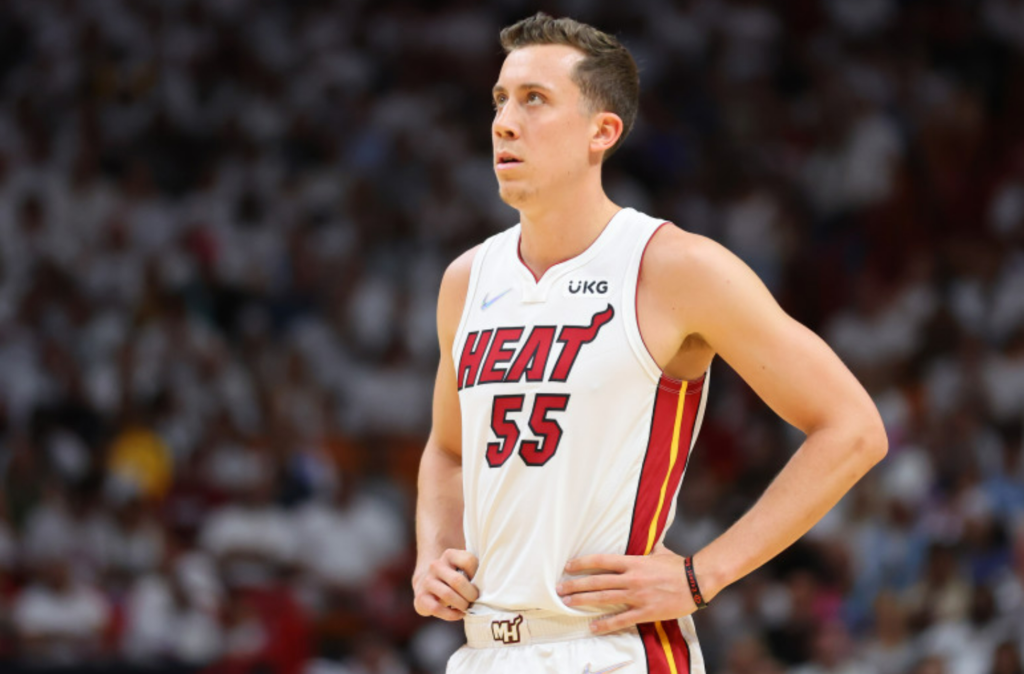 The Miami Heat suffered a tremendous blow to their backcourt Wednesday evening. Tyler Herro, the team's leading scorer through the first seven games, suffered a Grade 2 sprained ankle at the end of the first quarter after incidentally landing on Jaren Jackson Jr.'s left foot on a floater attempt.
Herro will be reevaluated in two weeks with the earliest possible timetable to return is early-to-mid December, if the two-week checkup goes well.
Should everyone remain healthy, the Heat will presumably keep its starting quartet of Kyle Lowry, Jimmy Butler, Haywood Highsmith and Bam Adebayo (it will not have Butler Saturday evening). But over these next 3-4 weeks, one spot is available with Herro's absence–who should earn it?
Let's talk about it!
Caleb Martin
Martin, Miami's Eastern Conference Finals hero last May, has played just one game this season due to knee tendinosis.
He's traveling with the team on their current four-game road trip, but has not shown any indication that he will be healthy enough to play this weekend. Martin could play his way into being a full-time starter if he returns and looks promising amid his nagging injury, but that's a long-term plan, not a short-term one.
Right now, he's an unlikely candidate to start, but I would not be surprised if he makes one spot start or two towards the end of Herro's recovery timetable if Martin's healthy.
Duncan Robinson
Robinson's confidence thus far through eight games has been one to behold.
Sure, he's only knocking down 37.7 percent of his 6.6 3-point attempts, a far cry from 2019-20, his first full Heat season. Though Robinson is pressuring the rim on- and off-the-ball better than anyone not named Jimmy Butler.
He's a phenomenal cutter and has continued to improve as a slasher, (play) finisher and creator inside the arc. You could make the argument that Robinson's been the Heat's fourth-best player outside of Butler, Herro and Adebayo.
Jaime Jaquez Jr.
Jaquez's role offensively has fluctuated thus far, but has been outstanding on the defensive end in isolation against a few of the league's top lead creators–Jayson Tatum, Mikal Bridges, Anthony Edwards and LeBron James, to name a few.
With the starting group, he shifted into more of a spot-up role, which isn't the cleanest process and hasn't churned out optimal results. Jaquez is only shooting 25 percent–5-of-20–as a catch-and-shoot 3-point shooter. Though outside of Butler and Robinson, Jaquez has been Miami's best rim pressurer and is very smart in live-dribble scenarios. He's  also a good mid-post hub, showcasing brute physicality and elite footwork that optimizes the offense.
Jaquez's playmaking could buoy the Heat starting lineup if he received more touches, but it remains a question how much he would eat up into Herro's lost touches alongside Adebayo and Butler.
Josh Richardson
Richardson, in his second tenure with the Heat, has struggled to find his footing offensively thus far. The guard is averaging 5.0 points on just 30.3 percent shooting with just three 3-point makes on 16 attempts. He's averaging 2.2 rebounds and 2.4 assists, but has struggled with his decision-making on live-dribble opportunities.
The spacing is compromised with Lowry-Butler-Richardson-Highsmith-Adebayo on the floor, though Richardson would elevate the floor if he's able to be a more consistent catch-and-shoot threat. Right now, given how he's played in five games–albeit off injury–isn't starter-worthy right now, barring injury.
Kevin Love
Love is another option if the Heat want to go bigger with Butler and Highsmith manning the 2-3. But Love's defensive aptitude is not a fit with this starting lineup if Lowry starts. That duo simply has not worked, and defenses are going to hunt Lowry-Love in the pick-and-roll and other two-man action with three above-average-to-elite defenders surrounding them.
Other options:
Jamal Cain — Has played just two games this season, but could start, in theory, adding juice defensively and on the glass. His role would be redundant with Highsmith, and would not provide enough spacing.
Nikola Jovic — He's coming off an illness and is the perfect connector offensively. 
Orlando Robinson/Thomas Bryant — Want to make sure y'all are still awake.
Dru Smith — Smith's gotten better, but the Lowry-Smith-Butler backcourt has registered a minus-44 NET Rating in nine minutes. Not great!
Verdict: Duncan Robinson
The Lowry-Butler-Robinson-Highsmith-Adebayo has been the best non-Herro lineup, posting a stout 29.8 NET Rating over 22 minutes (47 possessions). It's a small sample, but one worth noting.
Robinson isn't as polished of a defender as Herro, who was having his best defensive season yet. But his off-ball movement, screening and gravity make up for the offense's deficiencies without Herro for an extended sample. Lowry, Butler and Adebayo will almost certainly be more aggressive with the rock in their hands, but Robinson opens up the floor for them like no other Heat player.
The biggest question remains: Would Robinson be more comfortable with the starting group than he was in a (slightly) smaller role off the bench? History suggests he will, but time will tell.