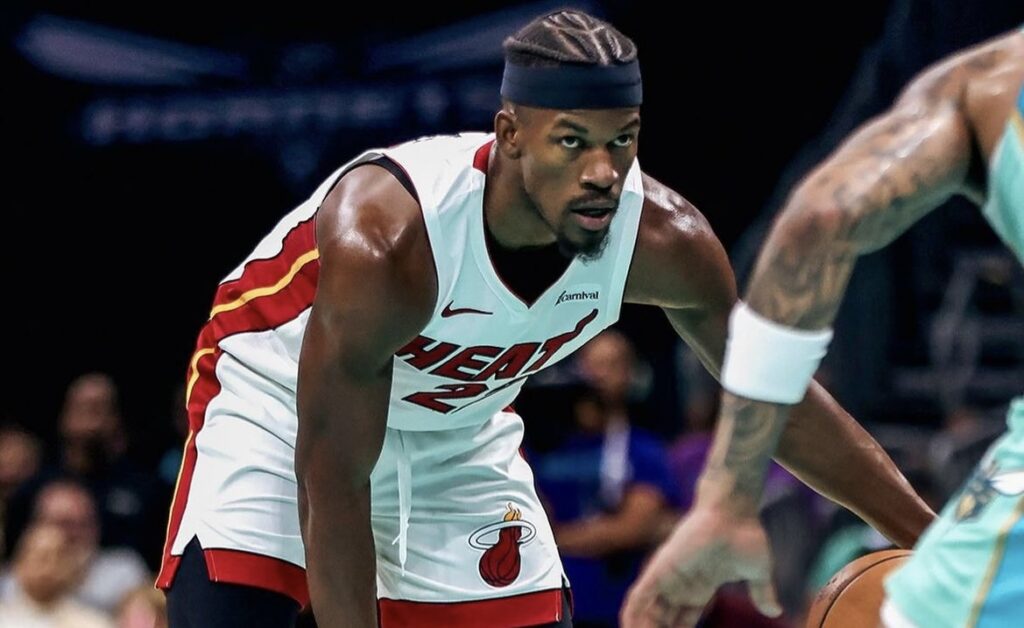 The Miami Heat are currently clicking on all cylinders, as they sit tied as the 3rd seed in the Eastern Conference with a record of 7-4.

This record comes after the team struggled early on with a 1-4 record, but has put together six wins in a row since.
That includes a four-game road trip sweep that featured all four games with a W for Miami.
The guys will make a one-night stop in South Florida for a home game against the 6-5 Brooklyn Nets before heading back out for another five-game road trip.
This would be the one and only home game in a 10 game span for Miami's schedule.
Brooklyn is in 7th place in the East, and has had a lot of recent regular season success in matchups against the Heat. They have won the past five games against Miami, and with Miami riding this six-game win streak, something has got to give tonight.
The Nets will be without the services of Ben Simmons and lethal scorer Cam Thomas. However, unlike the first matchup where Brooklyn won on the Heat's home floor a few weeks ago, Spencer Dinwiddie, Cam Johnson and Nic Claxton will be available and starting.
This is a solid Brooklyn playoff contending team, and probably won't be an easy win by any means.
The Heat, aside from Tyler Herro's ankle injury, are the most healthy they have been all year. Herro is the one and only real rotation piece on the injury report.
Caleb Martin is officially back from his lingering knee pain that has kept him out most of preseason and regular season so far.
UPDATE: Caleb Martin is officially back and available for tonight's matchup against the Brooklyn Nets.

Martin has not played at all since opening night, where he appeared in limited minutes, due to ongoing knee pain

Great to have a KEY rotation player back and ready to go😤… pic.twitter.com/LcmMmIUNAq

— Hot Hot Hoops (@hothothoops) November 16, 2023
Martin played in limited minutes in the season opener, but hasn't seen any action ever since.
It should be huge for this Heat team to gain a very key two-way role player back into the fold, but there should be expectations of some rust from the young wing player.
Either way, Heat fans know what Martin brings on the defensive end and even if it could take a little time to get his shot going he will still add value.
The rotation tonight could look like this:
With Caleb Martin back, and likely on a minutes restriction, expecting a bench rotation tonight of:

Richardson
Jaquez
Martin
Love/Bryant

Dru Smith if Lowry struggles

— Five Reasons Sports 🏀🏈⚾️🏒⚽️ (@5ReasonsSports) November 16, 2023
Miami has to keep their team defensive success going and let Bam Adebayo continue his cooking offensively. Jimmy Butler is also coming off his first 30+ point performance of the season in the last win against Charlotte.
They need to attack Nic Claxton and try to potentially get the young big man into early foul trouble. Look for role players like Duncan Robinson and Jaime Jaquez Jr. to continue their recent success.
Tonight's game will be nationally televised on NBA TV at 7:30 PM ET.
Injury Report (at the time of this publishing):
Miami Heat:
Tyler Herro (ankle) — OUT
Jamal Cain (g league) — OUT
RJ Hampton (knee) — OUT
Brooklyn Nets: 
Ben Simmons (back) — OUT
Cam Thomas (ankle) — OUT
Armoni Brooks (g league) — OUT
Noah Clowney (g league) — OUT
Keon Johnson (g league) — OUT
Dariq Whitehead (g league) — OUT
Jalen Wilson (g league) — OUT
Projected Starting 5:
Miami Heat:
Kyle Lowry, G
Duncan Robinson, G
Jimmy Butler, F
Haywood Highsmith, F
Bam Adebayo, C
Brooklyn Nets:
Spencer Dinwiddie, G
Mikal Bridges, G/F
Can Johnson, F
Dorian Finney-Smith, F
Nic Claxton, C
Betting Lines (at the time of this publishing):
Broadcast Info:
Tipoff: 7:30 PM EST
TV: NBA TV & Bally Sports Sun (Eric Reid, John Crotty)
Radio: AM 560 Sports WQAM & The HEAT Radio Network (Jason Jackson)
Spanish Radio: WAQI 710 AM & The HEAT Spanish Radio Network (José Pañeda)
Come back to Hot Hot Hoops at game time to join our GameThread and chat about the game live with other Heat fans!
Thank you for reading Hot Hot Hoops – Miami Heat NBA Blog. This post is public so feel free to share it.