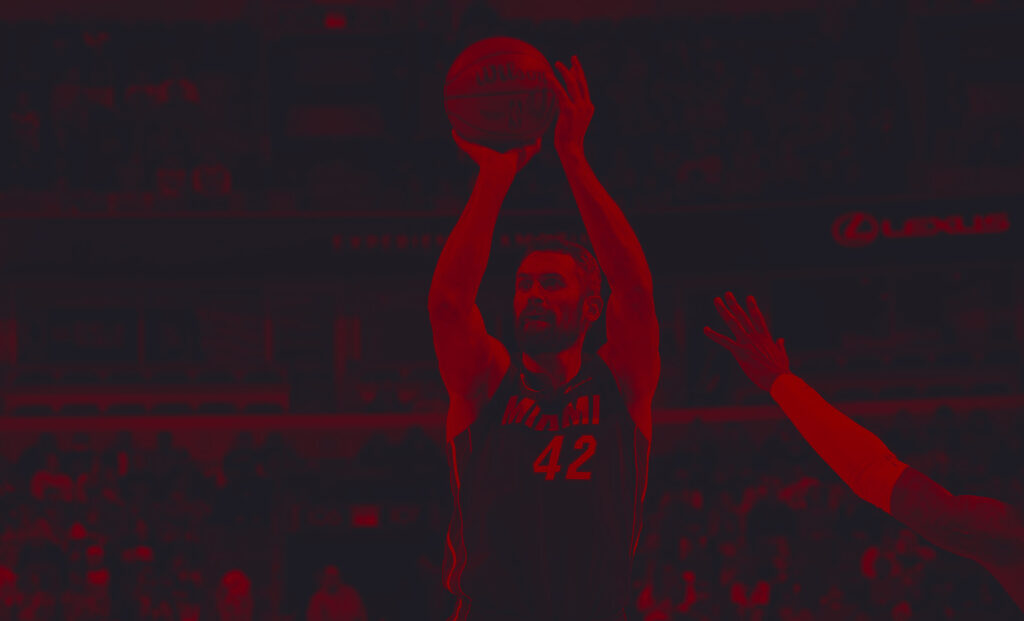 First Half:
The Heat got off to a good start with Bam, Highsmith, Jimmy, and Duncan all getting on the board early and showing excellent playmaking. Miami showed good patience, waiting for the right opportunities to strike on both ends of the floor and when they got stuck…well things seemed to go their way (see Duncan's amazing shot).
The Bulls didn't hang around and wait though with Chicago pulling back with a quick run of its own. But Duncan Robinson with the hot hand kept up his offensive assault keeping Chicago on its heels. With Kyle Lowry pushing the pace and Bam getting to the free-throw line with ease Miami looked in control for most of the first quarter even with Chicago nipping at its heels. Jimmy commanded a double team early which was interesting, but it still didn't prevent him from scoring, or at the very least earning his points at the line. Jimmy also had one great high basketball IQ moment where Lowry lobbed to him in transition and he turned it into a shot attempt, creating a clear-path foul firmly keeping the momentum in the hands of the Heat. Jimmy was absolutely unstoppable to end the first quarter creating a 6-0 run and scoring 10 points in the quarter.
In the second quarter, Miami got caught in a scoring drought as Chicago clawed back within two. The Heat regained its bearings however with a couple of quick Bam and Martin dunks. With Chicago on a 19-9 run Miami leaned on JJJ for offense which ignited a small back-and-forth battle between him and Coby White as they exchanged buckets. Despite White keeping it close Miami's reserves stepped up with JRich and Kevin Love making some well-timed looks. KLove looked spry, as he tracked down rebounds relentlessly and finally found his touch behind the arc. All of this allowed the Heat to rebuild its lead and expand it to 14 headed into the second half.
Second Half:
The Bulls came out charging in the second half to cut the lead to five, but Bam and Kyle managed to stop the bleeding. Still, Coby White continued to be a menace hitting three after three and preventing Miami from finding its groove. That didn't last for long though with Highsmith finding a rhythm from three and Bam continuing to feast on the Bulls' defense. With Jaquez hitting big shots and Miami's scrappy defense resulting in numerous Bulls' turnovers the Heat managed to once again take a double-digit lead. Despite a flurry of missed buckets to end the third Miami managed to take a 12-point lead into the fourth.
Duncan opened up the fourth with another three, but on the other end, DeMar DeRozan came alive as he usually does in fourth quarters. This forced the Heat to get more aggressive, which they did as made clear by Bam's runway-clearing slam. With Jimmy on the bench, Bam was great at commanding the offense as was Duncan who unleashed an absolute flamethrower from beyond the arc. Unlike most nights the Heat didn't take its foot off the gas, but the Bulls didn't let up either making things difficult as Miami tried to close things out. Things slowed down around the three-minute mark allowing the Heat to get into a Bam and Jaime-led cruise control as the Bulls mentally conceded the game to the Heat, and then shortly after actually did. A great bounce-back win for the boys from South Florida.