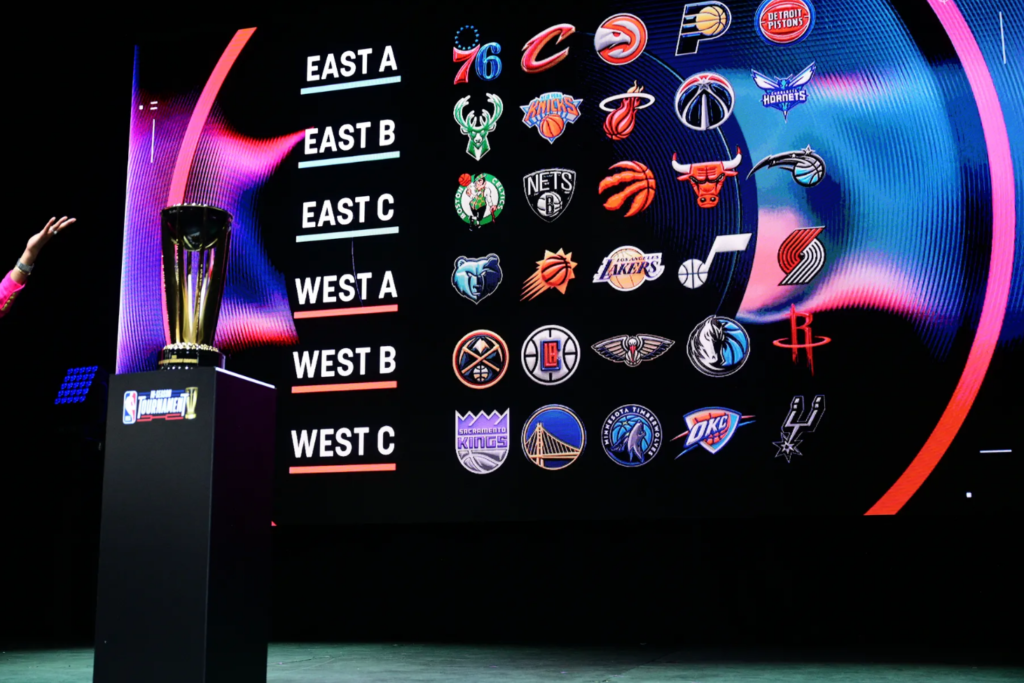 The first-ever 2023-24 NBA In-Season Tournament's group stage will be coming to a close Tuesday.
There have been only two groups–Group A in the East (Indiana Pacers) and Group A in the West (Los Angeles Lakers)–have been clinched, leaving four groups and both Wild Card spots (one in each conference) up for grabs ahead of Tuesday's group stage finale.
One of those teams fighting for one of those final bids is the Miami Heat, who are currently 2-1 in Group B of the East, shared by the Milwaukee Bucks, New York Knicks, Charlotte Hornets and Washington Wizards. Miami suffered a 102-97 loss to the Knicks in their most recent In-Season Tournament contest Friday after previous victories against the Wizards and Hornets.
For perspective, here's what the Group B standings currently look like:
Milwaukee Bucks, 3-0 (+39 point differential)
New York Knicks, 2-1 (+18)
Miami Heat, 2-1 (+11)
Charlotte Hornets, 1-2 (-30)
Washington Wizards, 0-4 (-38; already eliminated from advancing)
Despite their placement behind New York and Milwaukee, they can still advance to the knockout stage, which begins Dec. 4. How, exactly? Let's talk about it!
How can Heat win Group B?
Miami's decider Tuesday will be at home against Giannis Antetokounmpo, Damian Lillard and the Milwaukee Bucks, winners of seven of their last eight. If Milwaukee wins, they win the group.
If not, that's where things become interesting. A two-team tiebreaker is decided by the head-to-head result, while a three-, four- or five-team tiebreakers–especially between teams in different groups for the wild card–is where point differential and total points are more realistic tiebreakers.
Miami must win against Milwaukee to win Group B, but would also need one of these two subsequent scenarios must play out:
The Knicks lose to the Hornets OR
Knicks win against Hornets by six or fewer points AND Heat win by at least 14 points.
A Miami win plus a Knicks loss means the Heat and Bucks would be the only 3-1 teams in the Group, thus resulting in a head-to-head tiebreaker favoring Miami. If the Heat were to win by at least 14 points, its point differential would be tied with Milwaukee (+25). That means they would need New York to win by six or fewer points to avoid the three-team tiebreaker involving total points–which Milwaukee, who has 41 more total points than Miami and 46 more than New York, would likely win.
Wild card scenarios:
This is where it can be really tricky, so bear with me here.
The most forthright scenario for the Heat to advance past the group stage would be winning and New York losing because of how much help they will need elsewhere if 1.) It does not win by at least 14 points or 2.) New York wins by more than six points. Is that the most likely? Maybe, maybe not.
Anyways, for the wild card, it would …
Need to beat Bucks, Hawks to beat Cavaliers, Bulls to beat Boston, Raptors to beat Nets AND Hornets to beat Knicks OR
Need to beat the Bucks and win point differential/point total tiebreakers over the Knicks (+18; 325 PTS scored), Cleveland Cavaliers (currently +6; 346), Orlando Magic (already 3-1; +22; 446), Boston Celtics (0; 325) or the Brooklyn Nets (+8,  340) if any of them finished second place in their respective groups.
It's practically impossible for the Heat to lose Tuesday and still advance; it would need New York, Boston, Brooklyn and Cleveland to ALL lose and win those same tiebreakers against all the aforementioned teams, plus Atlanta, Charlotte and Philadelphia, who would finish 2-2 in this hypothetical.
In short, it's already a tough mountain to climb to advance past the group stage with a win Tuesday, which it will have to do without Jimmy Butler–it becomes even steeper if the Heat don't win by at least 14, a feat they've accomplished only twice this season and nine times over the last two seasons.
***
To check out our other content, click here.