Aaron Goodwin has four NBA clients, and he's doing all he can for his top one, Damian Lillard, to get him to Miami.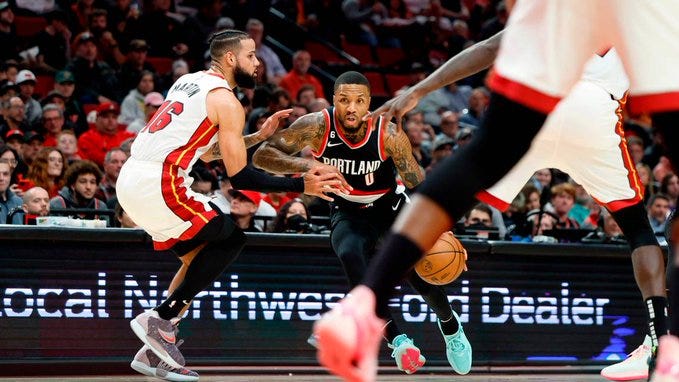 Joe Cronin has made this more difficult than it needs to be for Damian Lillard and the rest of the NBA. On Saturday, Lillard officially requested a trade from the Portland Trailblazers to the Miami Heat.
That hasn't happened, yet.
And it appears that much of the national media is appalled that he could end up alongside Jimmy Butler. Much of these guys have gone on TV shows and taken to Twitter (or what's left of it) and shown why he should end up in Philadelphia or Boston or basically anywhere but Miami.
But there's at least one person involved, who actually doesn't need a source, that is contributing to the cause of getting Damian Lillard to the Miami Heat — and that's his agent Aaron Goodwin.
Goodwin told the Miami Herald's Barry Jackson this: "I do what I should for my client. Some teams I did call. Other teams have called me. It's a respectful relationship with most teams. Truthfully, he wants to play in Miami. Period."
Hey Joe, did you see the period?
Additionally, ESPN's Adrian Wojnarowski reported this in an ESPN+ article today: "Lillard's agent, Aaron Goodwin, has been calling prospective trade partners and warning against trading for his client, team executives told ESPN. Goodwin is telling organizations outside of Miami that trading for Lillard is trading for an unhappy player. As interference goes, this is a time-honored agent maneuver to depress offers and clear a path to a predetermined destination."
So that would be Miami Heat lifer Aaron Goodwin doing his part to make this happen. The Heat have their offer out there and are waiting for other teams to neglect to make a better offer because of this desire of Lillard.
Will it work? Probably.
How long will it take? That is going to depend on the pride of Joe Cronin.
Barry Jackson added this to the mix as well: "Aaron Goodwin told ESPN's Marc Spears that Goodwin spoke with Joe Cronin and had a "good discussion today" and "Aaron is hopeful over the next couple days" that the Heat and Blazers "will get in a room and hopefully hash something out" in Vegas."
Thank you for your service Aaron Goodwin!
Hot Hot Hoops – Miami Heat NBA Blog is a reader-supported publication.
To receive new posts and support my work, consider becoming a free or paid subscriber.