Keep an eye on these 11 Heat games this season!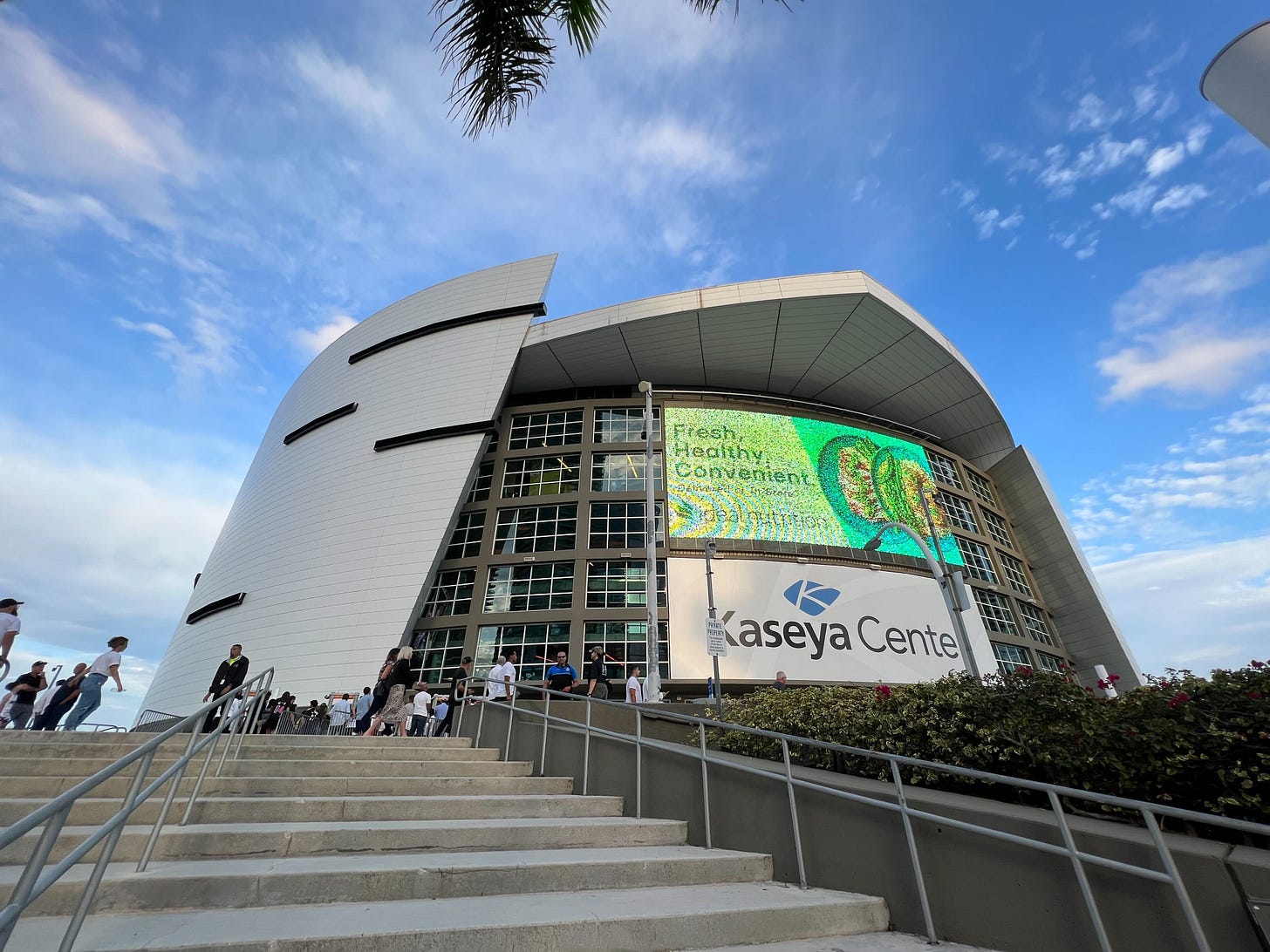 The Miami Heat's 2023-24 schedule was announced this week! For more on that, click here! Let's dive into 11 games you should circle on your calendar, plus some additional scheduling notes below!
Oct. 25: vs. Detroit Pistons
The Miami Heat tip off their 2023-24 season against the Detroit Pistons inside Kaseya Center. It will be one of four matchups against Detroit this season, with the next one not being until March 5. Miami has bested Detroit in nine of their last 12 regular season meetings, going 2-1 against them last year with an average Heat margin-of-victory of 12.5 points. The Heat is 4-4 in their last eight season openers and 5-3 in their last eight home openers.
Oct. 27: at Boston Celtics
Miami's second game of the season will be the first leg of their first back-to-back. But, more importantly, it's a rematch with the Boston Celtics, its opponent in three of the last four Eastern Conference Finals. Miami eliminated Boston in seven games in 2022-23—after nearly blowing a 3-0 lead—and in six games in 2019-20, while Boston bested them in seven two seasons ago. This is arguably the best rivalry going in the NBA right now; if a game has Jimmy Butler, Bam Adebayo, Jayson Tatum and Jaylen Brown, it's almost certainly going to be a great one!
Oct. 30: at Milwaukee Bucks
While Oct. 27 features one Heat rivalry, mere days later features another. Miami will travel to Milwaukee in the final game of a three-game road trip; the last time Miami stepped into Fiserv Forum, it ended the Bucks' season with a 128-126 overtime victory in Game 5 behind Butler's 42-point masterpiece on 17-of-33 shooting. It became the sixth No. 8 seed to advance past the first round and the first in fewer than six games since the seven-game first-round format was implemented.
Nov. 3: vs. Washington Wizards
Let's be honest: There might not be much appeal with the new iteration of the Washington Wizards. But this marks the Heat's first-ever In-Season Tournament game—their first of four in the group stage. They will also play the Charlotte Hornets, New York Knicks and Bucks. How motivated will the Heat be? Time will tell.
Nov. 6: vs. Los Angeles Lakers
Of course, a game involving Butler, Adebayo, LeBron James and Anthony Davis is always one to circle. But this also marks the return of former Heat guard Gabe Vincent, who signed a three-year, $33 million deal with the Lakers in July. Vincent averaged 7.7 points and 2.3 assists on 39.9 percent shooting and 33.9 percent from 3-point range in 195 games (68 starts) with Heat. They were also 20-10 in 30 Vincent starts over the last two postseasons, as he was an integral part of their last two postseason runs.
The Miami Heat's 2023-24 schedule has been released
Nov. 12: at San Antonio Spurs
Bam Adebayo vs. Victor Wembanyama?!? Fun!!!!
Dec. 25: vs. Philadelphia 76ers
This Christmas Evening showdown will be the 14th-ever time the Heat play on Christmas and the 34th time for Philadelphia. The Heat sport an NBA-best 11-2 record on Christmas (76ers are 19-14) with wins in four of their last five games against Philadelphia. It should be another intriguing primetime showdown between reigning MVP Joel Embiid, Butler and Adebayo.
Feb. 27: vs. Portland Trail Blazers
Hmm … the NBA scheduling a Heat-Blazers game in Portland—the latter's only nationally televised game this season—shortly after when the 2024 Trade Deadline will occur. Suspicious activity, indeed.
Feb. 29: at Denver Nuggets
This rematch of the 2022-23 NBA Finals will be the first of two contests between the two foes—the other occurring inside Kaseya Center on March 13. Miami's struggled mightily in Denver, having gone 14-25 in Colorado all-time. It also has just one win there since 2016—its 111-108 win in Game 2. This also marks the final of six Heat games away from home—their longest road trip of the season.
March 24: vs. Cleveland Cavaliers
This late March contest will be Max Strus' return to Miami. The Heat played three games against Cleveland in 2023-24—this being the only one in South Florida. Miami split its four games against the Cavs last year, though its two wins didn't come by more than four points. Strus, who was sign-and-traded to Cleveland on a four-year, $62.3 million, adds to a Cavs squad that struggled from 3-point range down the stretch a year ago. He shot 37.1 percent from 3-point range in 189 career regular season games with Heat, but only 32.5 percent in the postseason. The Cavs and Heat could also be jostling for playoff positioning in the top-4/5 in the East at this point in the season as well.
April 14: vs. Toronto Raptors
You could circle this or not, but this is the last regular season game. The Raptors project to be a fringe play-in team, but I am intrigued by the hire of new head coach Darko Rajakovic and how he can inject life with a motion-heavy offense around Scottie Barnes and Pascal Siakam.
Heat sign Alondes Williams to an Exhibit 10 deal
A Few Additional Schedule Notes:
Heat project to have the seventh-easiest schedule, per Positive Residual.

Positive Residual's SOS metric factors in opponent strength and rest advantage, among other things.

80 of the 82 games have been announced; the final two games will be played sometime between Dec. 4-9, but opponents/location/times TBA
Heat play 13 back-to-backs (two short of the max of 15) after playing 14 last season.
Seven of Miami's first nine opponents finished .500 or better last season.
10 of Miami's first 18 games are against teams who made playoffs in '22-23.
The longest road trip is six games, five coming against playoff teams in '22-23; longest homestand is four games, which happens on four separate occasions.
The first big West Coast Trip will be from Dec. 28-Jan. 5 against the Warriors, Jazz, Clippers, Lakers and Suns.
Nine of the Heat's final 13 games will be at home, including eight against East opponents
Heat play 24 nationally televised games, including 16 on ESPN, ABC and TNT. Its first will be on Oct. 27 against Boston (ESPN) and last will be on April 10 against Dallas (ESPN).