After being in and out of the rotation for 2 seasons, Robinson resurrected himself in these past playoffs.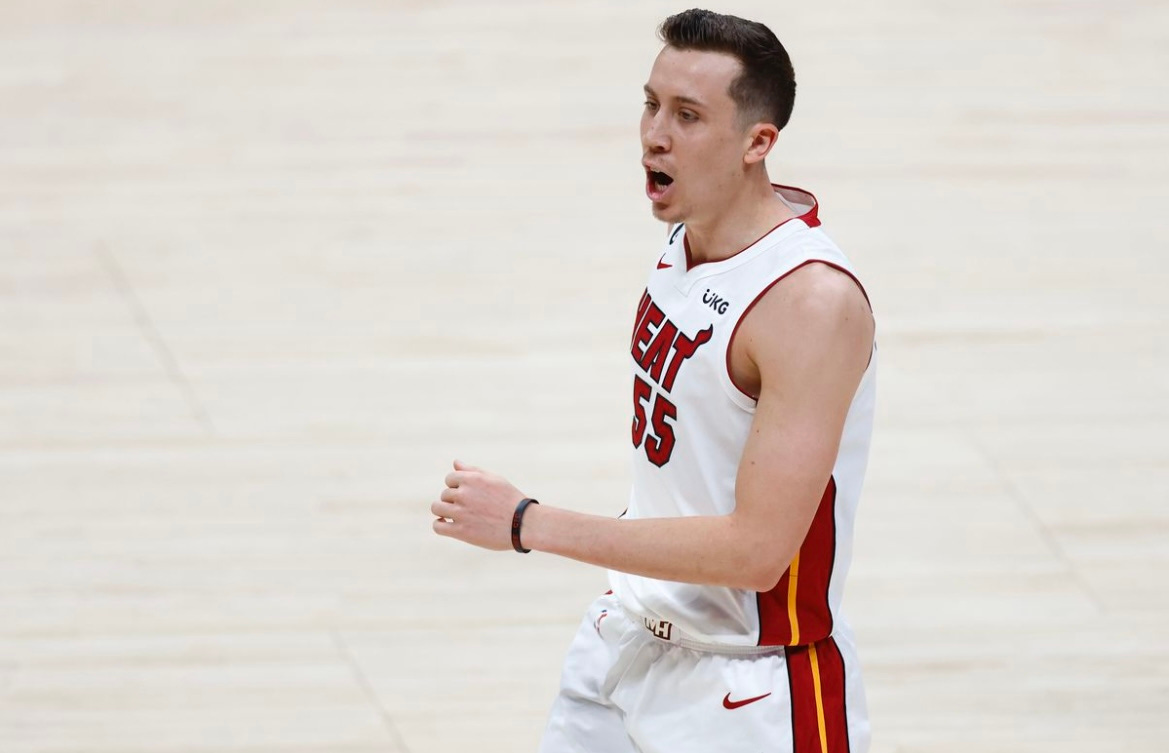 Duncan Robinson has had an up and down career in a Miami Heat uniform.
Once considered a rising player in Miami, he found himself in and out of the rotation for about two consecutive seasons.
Coincidentally, Robinson saw a dip in his numbers and playing time across the board after he signed a pretty hefty contract in the summer of 2021.
There was a lot of pressure on him to produce to back up his price tag, and with players like Max Strus and Gabe Vincent emerging, Robinson was left as the odd man out.
He never stopped grinding though, as the sharpshooter always stayed true to himself and worked behind the scenes at all times.
Robinson knew what he could do, even when some Heat fans started to give up on him.
When the injury bug hit Miami hard in this year's playoffs to wings like Tyler Herro and Victor Oladipo, it was Robinson who stepped into a much needed role.
Robinson is no rookie to playoff success, as he was a serious problem to opposing teams in the 2020 bubble.
He even had a standout performance against the Atlanta Hawks in the first round in 2022 where he splashed down a franchise record 8 three's in one playoff game.
Robinson's skill set was on full display in the 2023 post season and showed that he has indeed improved his game.
The playmaking, off ball movement, sharp shooting, cuts and even dribbling all looked super impressive in these last playoffs.
Overall, he just simply looked like a much better basketball player.
In game 3 of the ECF against the Boston Celtics, Robinson posted 22 PTS, 4 ASTS on 7/11 shooting & 5/7 from 3 point range. He also surpassed LeBron James for the most 3 pointers in HEAT playoff history.
All it took was for an opportunity to arise, and then Robinson did all the work from there.
He is already one of the best 3 point shooters in franchise history, and at 29 years old, may just be getting started too.
Maybe Robinson isn't an everyday starting caliber player anymore, but there should absolutely be a role for him moving forward.
When his shot is on, he can get hot and make a serious impact real quick.
In his earlier years in Miami he was considered a shooter and nothing else.
For the most part, that still could be true, but some of the facets of his game that Heat Nation had a privilege to witness in the playoffs is extremely encouraging.
There is no question still chemistry between him and All-Star big man Bam Adebayo; that dribble handout can be lethal at times.
The playmaking in general is something that shocked a lot of people in the playoffs.
If Robinson can create offense in other ways besides just his 3 point shot, like he did all post season long, it expands his potential greatly.
Heat fans should be excited to see if Robinson can cary that recent success into the new season, and finally get that consistency that has been needed ever since his new contract was signed.
He is yet another guy who has been here for a few years now, knows the system, and can find a way to help the team win.