Martin is entering his third year in Miami, and has proven to be a valuable role player for this team.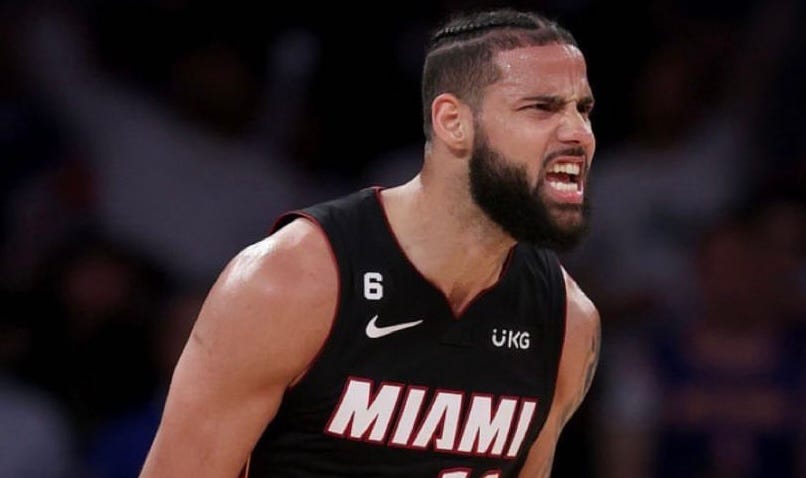 Caleb Martin is a perfect Culture type guy, who knows the system here in Miami and has excelled in his role as a two-way, versatile player for this Heat team.
It was recently reported by Sam Amico that the Miami Heat are hesitant to include Martin in any trade package for Damian Lillard.
It makes a lot of sense for Miami to want to keep him under any circumstances, especially with home grown players like Vincent & Strus already gone.
After all, the Heat have invested energy and effort into the development of Martin, even in just 2 seasons.
The way Caleb Martin found his way to the Miami Heat has always been a cool story.
Free agent at the time, Martin impressed popular rapper J Cole in a pick up game in the offseason, who then contacted close friend and assistant coach Caron Butler to vouch for a roster spot on the Heat for Martin.
He was signed to numerous two-way deals until eventually agreeing to a multi-year standard deal. He earned his way into a regular rotation spot, and ended up being the second best player in the ECF this past season.
From cut by the Hornets to getting big minutes in the NBA Finals with Miami, Caleb has proven to be a valuable two-way asset.
He is a wing player that was forced into a starting PF position following the loss of veteran PJ Tucker.
The first year Martin was in Miami, he played a majority of his minutes as a SG or SF.
He handled the position change extremely well and professional, with no complaints and willing to do whatever to help this team.
Even being undersized, he has held his own at that position.
He had some huge moments in this past playoff run on route to the NBA Finals.
In the Conference Finals against the Boston Celtics, he was arguably a top 2 player on the team.
The efficiency and effectiveness on both sides of the ball played a big part in knocking off Boston.
Obviously, it could take a pretty attractive package to facilitate a blockbuster trade to bring in an All-NBA talent like Lillard. A young player with long term potential in this league like Martin could be coveted to Portland.
However, keeping Martin in the mix and off the table in potential trade talks can help round out a nice supporting cast in South Beach.