Adebayo played as the starting center for the 2021 Olympic team in Tokyo.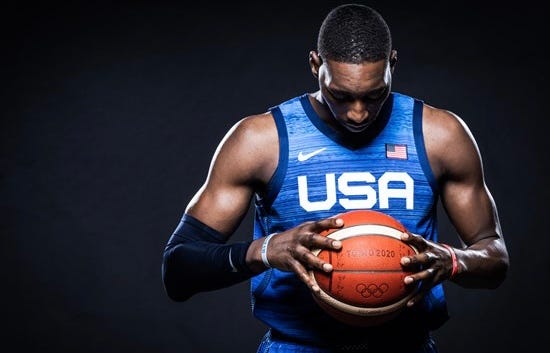 Bam Adebayo has truly made a name for himself in the NBA. At just 26 years old, Adebayo will soon be hitting his prime. Fans haven't even seen the best of this talented big man yet.
Adebayo is one of the best defenders in this league, someone who can guard positions 1-5.
He can switch onto an opposing teams PG and get stops at the same efficiency as when he guards other bigs like himself. No matter who or what position he is guarding, he will always hold his own.
Coming off a year of averaging 20.4 PPG (career high), 9.2 RPG and 3.2 APG and his second All-Star appearance, the sky is the limit for Adebayo.
After an up and down 2022 playoffs, he played with something to prove this past season for the 2023 playoffs.
His versatility on both offense and defense, rebounding, and IQ seemed to all take a step forward.
All those qualities is what this summer's team USA lacked from a big man during the Fiba World Cup.
As reported by Shams, Adebayo is looked at as a "strong candidate" in a big man role for the next USA team.
Adebayo played for the 2021 USA team in Tokyo and was the starting center.
This year, USA couldn't even find a way to snag a bronze medal, let alone with it all with the gold.
That could change for next summer, as a stacked lineup for the 2024 Paris Olympics could be in play.
The 2X All-Star Adebayo could join a potential star studded roster for the 2024 Paris Olympics with names that include:
LeBron James, Stephen Curry, Kevin Durant, Damian Lillard, Anthony Davis, Jayson Tatum, Kyrie Irving, Devin Booker, Draymond Green, De'Aaron Fox
Health at the time could clearly be an important factor, but players like James, Curry and Durant reportedly view this next Olympics as their "last dance" with Team USA.
There could also be a couple returning players from this year's team, most notably Anthony Edwards, who also has looked to take some significant steps in his game.
It is also unknown if Erik Spoelstra will be returning to the coaching staff, but it seems more likely than not.