Is there an extra East competitor in the running for Lillard? Let's examine below.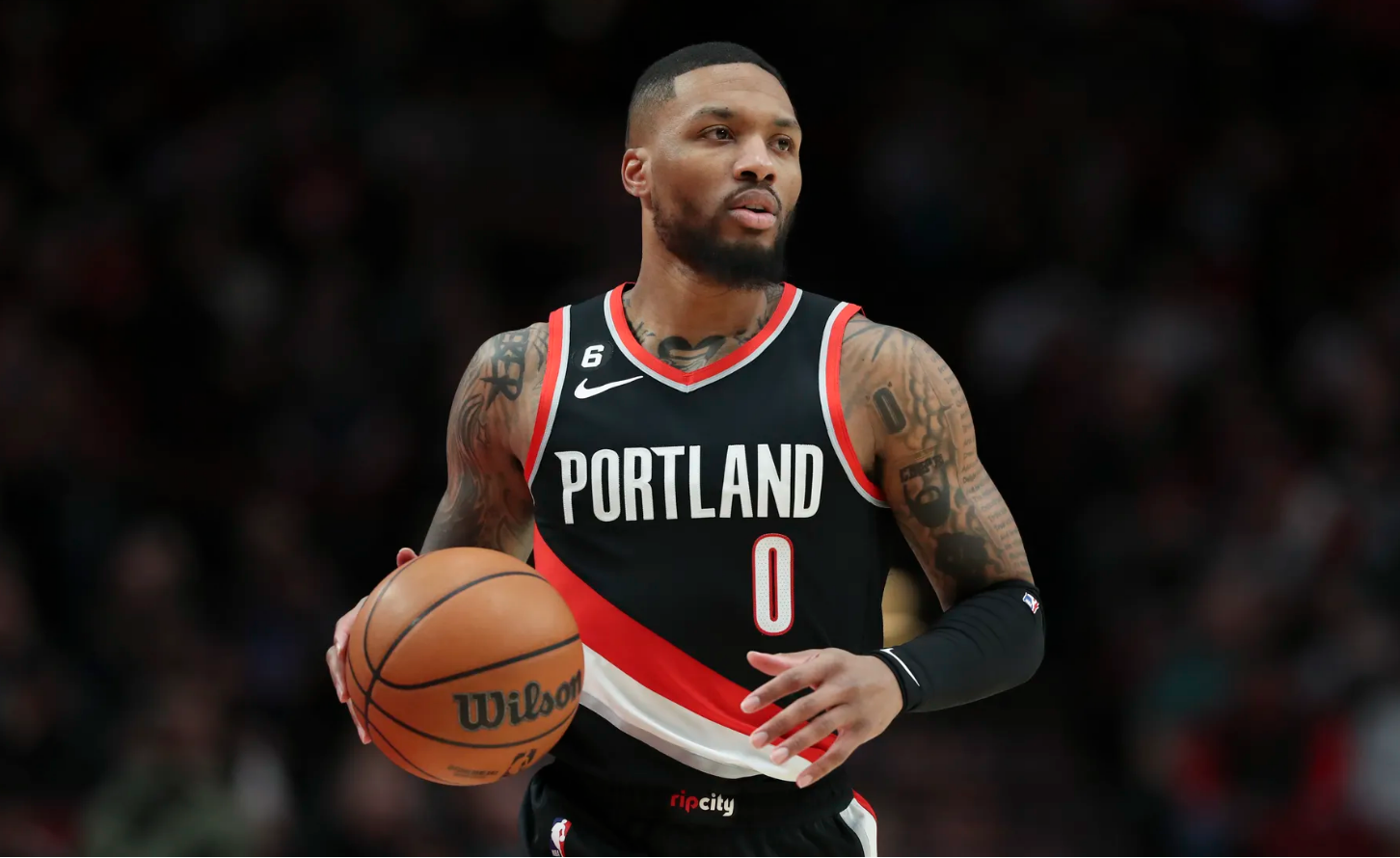 Photo by Amanda Loman/Getty Images
"I'm kind of hearing rumors about another Eastern Conference team that I'm not gonna throw out there just yet," Spears said Monday.
"If a team is able to trade for Lillard without his blessing, that's very risky—not only for that team (trading for Lillard) but for the relationship of a future Hall of Fame with the Blazers."
Training camp begins Oct. 3 and trade rumors appear to be ramping up, but let's hypothetically assume this report is true (Spears is a reliable insider), which East team could be in the conversation for Lillard? Let's examine possible options below.
Boston Celtics
The Celtics cannot trade Jaylen Brown because he signed a supermax extension—thus he cannot be traded for exactly one calendar year. They also won't trade Jayson Tatum, who's tried recruiting Lillard to Boston. But Lillard doesn't want to go to Boston anyway. Next …
Milwaukee Bucks:
Jrue Holiday has two years, $76.3 million left on his deal (player option in final year) and Khris Middleton has three years, $93 million left (player option in final year), so Milwaukee has the contracts to orchestrate a Lillard trade, even though they currently don't own a tradeable first-round pick until 2028.
I'll sound like a broken record, but what would the upside be from acquiring either one of Holiday or Middleton—plus any other players—from the Blazers' perspective, given their position redundancy and pedigree? Both are good veterans, but Holiday or Middleton would put this clear-tanking team as a No. 11 or 12 seed, which is the exact opposite direction Portland should want to go in.
A third or fourth team would have to get involved, and while Milwaukee would be an unquestionable favorite to make it out of the East, they still possess one of the oldest rosters in the NBA.
The Heat aren't much younger, but have a better recent track record of injecting youth into its roster, lengthening their window. It's more realistic than Boston, but doesn't feel that likely. Next …
Philadelphia 76ers:
The Sixers have the James Harden debacle to sort out. Plus, Tyrese Maxey and Tyler Herro, a player Portland reportedly doesn't want, are arguably on the same tier as an asset. Why would either side do this? Again, redundancy. Next …
Cleveland Cavaliers:
The three most desirable assets in Cleveland are Donovan Mitchell, Evan Mobley and Darius Garland. Trading Garland, a 23-year-old budding star, shouldn't be on the table for Lillard; Mitchell is a slightly different case study, but a Lillard-Garland hypothetical backcourt isn't necessarily the cleanest fit, in theory—even though Cleveland would still be a premier contender.
Would Cleveland trade either one of Mobley or Jarrett Allen plus additional assets and try to make a Garland-Lillard-Mitchell backcourt work? Probably not, especially if they're trading the former. No way that happens. Next …
New York Knicks:
Even though Stephen A. Smith is (understandably, I guess?) trying to wish Lillard into existence, it's unlikely the Knicks could trade either one of Julius Randle—coming off ankle surgery—or R.J. Barrett, whose trade value has ever been lower, for Lillard without an additional suitor. While it's an interesting thought, Lillard-Brunson would be a murky backcourt fit, too—especially defensively.
Flipping Immanuel Quickley would bring the same redundancy as Herro, Maxey would provide in a trade package. New York owns the draft capital, and Lillard would bring plenty of star power to The Big Apple, but it's not very realistic given the pieces the Knicks have. Next …
Brooklyn Nets:
While the Nets were the only other initial team Lillard had on his trade request list, the Nets don't have the infrastructure outside of Mikal Bridges—who they're not trading—to build a formidable contender around Lillard. Give it another offseason or two, and then we'll talk—but Lillard, 33, doesn't have time for that. Next …
Toronto Raptors:
Masai Ujiri is a general manager who, you could argue, wants to win every trade. In essence, that's a general manager's job, but that practically precluded why the Raptors failed to flip their best assets at the trade deadline and ultimately received nothing back for Fred VanVleet, who departed to Houston in free agency.
And even if he's trying to strip the Raptors clean, Pascal Siakam and/or O.G. Anunoby present the same problem that the aforementioned options do: They would carry Portland in the opposite direction they should be going. Why would Portland aim for that? Next …
Chicago Bulls, Atlanta Hawks:
Two franchises in purgatory without much direction. Lillard would instantly become the best player on either team, but they still wouldn't be crazy contenders without additional moves. Next …
Anyone else?
The teams I intentionally left out were the Indiana Pacers, Washington Wizards, Orlando Magic, Charlotte Hornets and Detroit Pistons. While I believe the Pacers will be much-improved with the addition of Bruce Brown in free agency and Jarace Walker in the draft, they—and the rest of these four teams lumped into this category—are third, fourth or perhaps fifth teams to facilitate a Lillard trade, not be the team that acquires him.
While Spears cites that there's another non-Heat Eastern Conference team and Portland having trade discussions, it would behoove all 27 other teams to at least check and see what a potential package looks like—whether they're a contender, fringe contender, non-contender, etc. He's that special of a player.
Perhaps I'm naive, but there are not many East destinations outside of Miami that make sense. And the West is a gauntlet. The list of Lillard destinations shrink once you factor in that Lillard (likely, I don't have any sources) wouldn't be happy if he was traded to a non-Heat destination.
What if he holds out of training camp? What if you have to gut your team for a trade knowing you still must make additional moves to contend for an NBA Title? These are questions that every (East) team must ask.
Which East team do you think hypothetically is the "mystery" team? Let us know in the comments!