As the waiting game continues, Lillard finding his way to South Beach seems inevitable, right?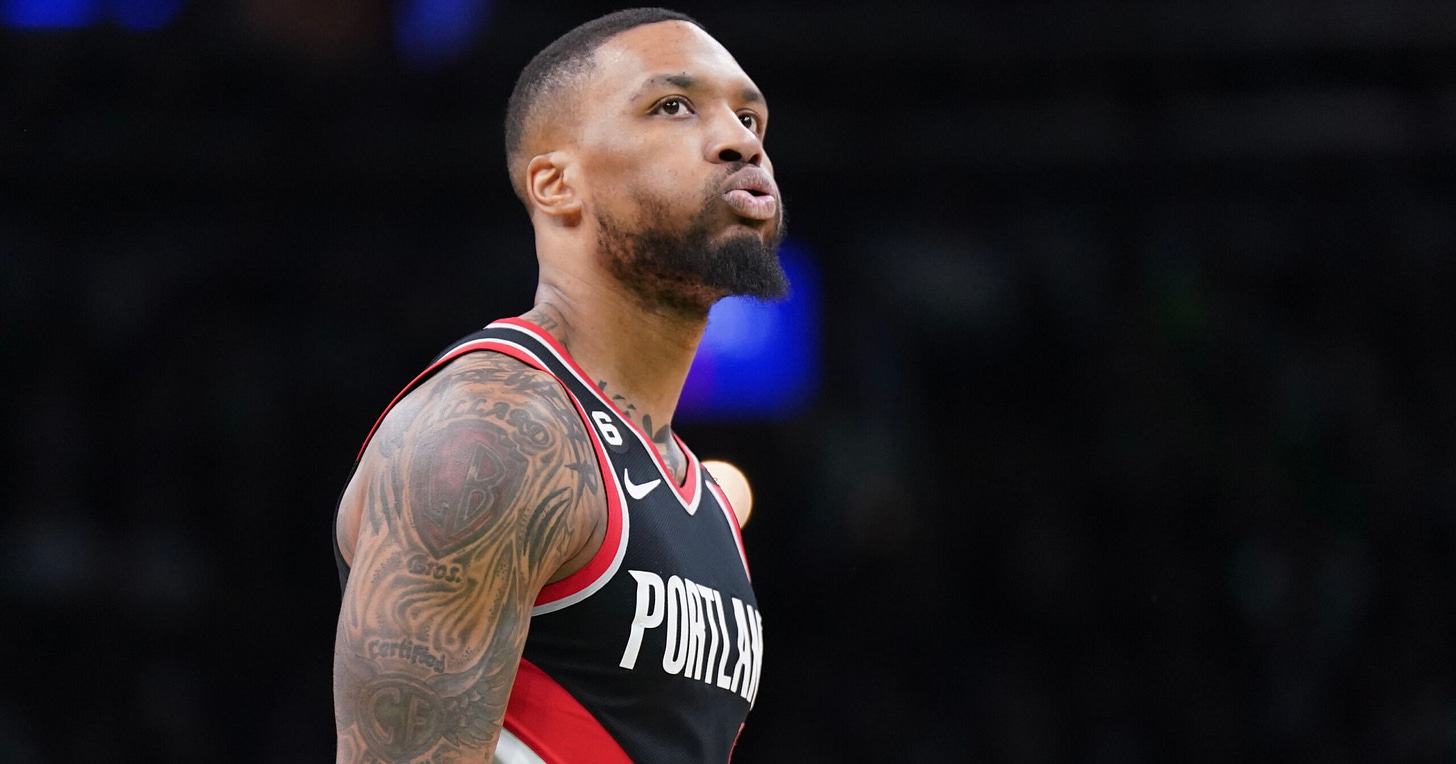 Months after his formal trade request to be sent to the Miami Heat and Miami only, Damian Lillard still finds himself as a member of the Portland Trail Blazers.
Training camp is right around the corner, and as time is running out, fans can't help but feel for this man.
Damian Lillard has played 11 seasons for the Trail Blazers. He has averaged 25.2 points, 6.7 assists and 4.2 rebounds in 769 regular-season games.
He is a 7X NBA All-Star, an All-NBA talent, has won the Rookie of the Year award, and even at the age of 33 is still coming off the best statistical season of his career.
Last season, Lillard put up averages of 32.2 points, 7.3 assists and 4.8 rebounds to go along with 46% shooting and 37% from 3 point range.
He also exploded for a 60 and 70 point performance earlier in the year.
The loyalty from Lillard to that organization has gone unmatched. He has stuck around through numerous different roster changes and disappointing seasons.
When Portland chose to draft Scoot Henderson in this year's draft instead of opting to trade the pick for an already established superstar to pair with Lillard, that's when he knew he had to go in another direction.
Lillard is getting older and only has a few seasons left of his prime and championship window as a leading guy on a team.
A rebuild and/or youth movement is something that just doesn't make sense at this stage in his career.
He had no choice but to take matters into his own hands with a formal trade request.
In Portland's defense, Lillard wasn't too flexible with his desire to move on, listing the Miami Heat as the one and only team he wished to be traded to.
With that being said, Portland doesn't "have" to trade him to Miami, but there just hasn't been a market for team's outside of the Heat.
No team wants to take on a 33 year old star with a massive contract who would be unhappy upon arrival.
Here is a quick summary of the latest updates regarding the Lillard situation:
There has been SOME progress between Heat/Blazers, but Blazers still trying to get everything they possibly can and more out of Miami
Heat know that the Blazers have no leverage, and are "daring" them to find a better offer on the market
Raptors could be interested in Dame, but Dame still insisting on Miami and Miami only, making it a gamble for other teams to trade for him by unloading assets to bring in an unhappy player
3rd/4th team being involved in the deal still a possibility
Portland being reluctant to have realistic talks with Miami could "conceivably" change as the start of training camp approaches on Oct.2
"If Damian Lillard is traded to a team other than Miami, he is expected to ask to be traded to the Heat." (via Barry Jackson)
That last note is very important, as it just shows even further that Lillard's mindset is indeed Miami or bust, in which that notion has never changed. He wants to be here and the Heat players, coaches and front office want him here.
However, with the market for his services being so limited because of the situation and circumstances, Miami does not want to bid against themselves and give away too much.
If Lillard was a free agent, this would have been resolved a long time ago. The problem is though, he is not. He is under contract for another NBA team.
Any pathway of Lillard to the Heat needs to go through the Trail Blazers.
It makes things a lot harder when Portland won't have any realistic discussions and negotiations with Miami's front office, although that could change as the start of the season approaches.
Brian Windhorst recently stated that Joe Cronin and Blazers management are trying to get the Lillard situation resolved before training camp, so that should be the closest next deadline for a trade to unfold.
With Portland being so difficult for so long, it has gotten to a point where it was also reported that the Heat front office is "daring" the Blazers to find a better trade in the marketplace.
As of today, it was reported that the Blazers did just that.
They went out and had discussions with other teams, but made absolutely no progress.
The representatives in the Miami Heat front office know better.
They know Portland has no leverage, they know there is no market for Lillard, and they know that if Portland chooses to drag this out it will only just favor the Heat even more.
Lillard to South Beach seems inevitable, but for now, the waiting game will continue.
The Blazer's front office are setting themselves up to have an awkward and uncomfortable start to their season by keeping Lillard in the picture.
The way they have treated their current franchise cornerstone and arguably best player they ever had after all the loyalty Lillard has gave them both on and off the court is borderline disgraceful.
As Heat fans, all there is to do is continue being patient and wait how everything plays out.
At the end of the day, Lillard or no Lillard, this Miami Heat team are the reigning Eastern Conference Champions, and will be ready to gear up for yet another playoff run in 2024 no matter what.