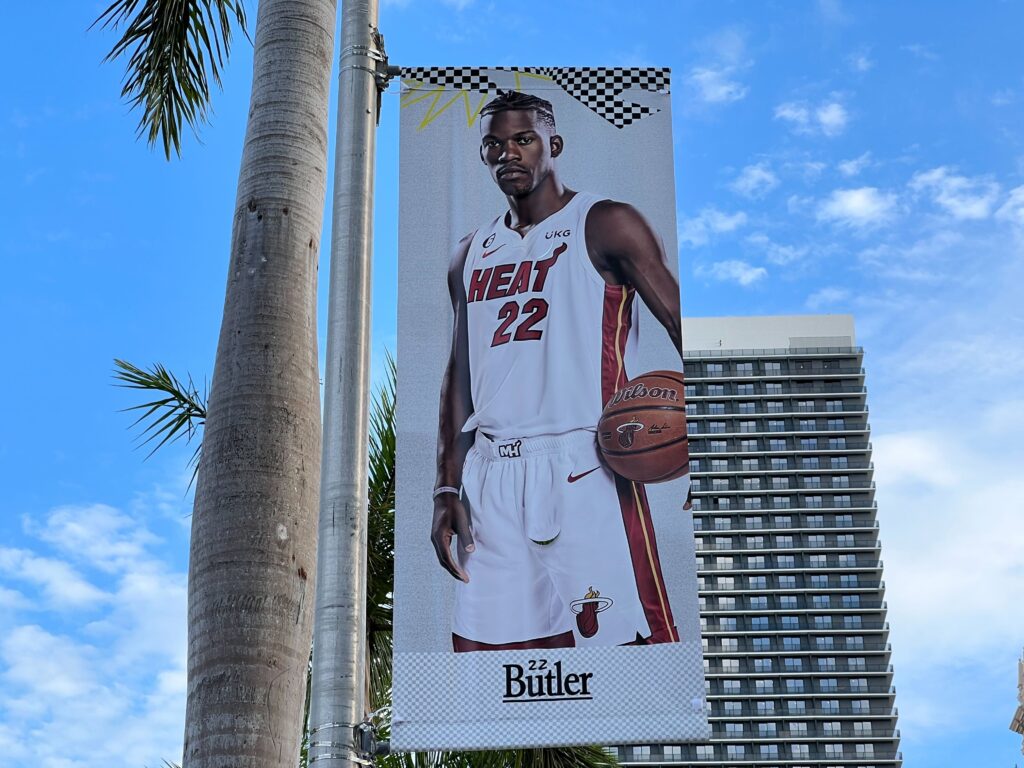 The Miami Heat take down the Detroit Pistons on opening night inside the Kaseya Center, 103-102.
After a long, (painful) and interesting offseason following the teams incredible NBA Finals run, Miami ran it back once again and gave a great game to the home fans to tip off the 2023-2024 NBA season.
In typical Miami Heat fashion, this game went down to the wire. The Heat blew the game open to a 20 point lead early in the fourth quarter, but a run led by Cade Cunningham brought Detroit back into the game.
Ultimately it came down to the Heat getting stops on the defensive end to secure the W, as Bam Adebayo had the play of the game with a huge block with around 30 seconds left in the game. That bucket would've given the Pistons the lead.
Instead, the Heat got the ball back and had a chance to ice the game, but Kevin Love missed a good look at a 3 point shot which went in and out.
The Pistons had one last chance for a catch and shoot with around 3 seconds left, but Cunningham was forced into a deep shot that was just a bit too far out of his range and missed.
There were definitely some standout performances on Miami's side tonight.
#HEATWin final – Miami 103, Detroit 102

🔥 Adebayo: 22pts, 8pts & 3asts
🔥 Butler: 19pts, 13rebs & 4asts
🔥 Herro: 16pts, 3asts & 3stls
🔥 D. Robinson: 15pts (3 3s)
🔥 Love: 13pts (3 3s) & 10rebs pic.twitter.com/zy0CkhpY6s

— Miami HEAT (@MiamiHEAT) October 26, 2023
Jimmy Butler started the game right out of the gate with a spring in his step. Hitting and-1's, drawing fouls and getting to his midrange spots. He scored 9 points in the opening quarter alone.
Adebayo was super efficient offensively and proved that he is still the best defender on the court. He finished the night with a pair of blocks.
Love got the starting PF nod and did not disappoint. He helped spread the floor with his 3 point shooting and was aggressive on the boards. Even had a few of his signature outlet passes. The savy veteran had a double double, and showed he is very capable of holding down a starting position next to Adebayo.
As for the backcourt, both Tyler Herro and Kyle Lowry struggled. Herro tallied 16 points but on a disappointing 7/24 shooting.
He didn't let his shooting struggles affect his confidence in attempts which is good, but he definitely needs to get those percentages up and at a consistent pace.
Lowry on the other hand just didn't do much at all. He had more fouls than points, and attempted just one shot all night. Usually this wouldn't be a problem because of his playmaking ability, but he only had 2 assists as well. It is unclear if Josh Richardson will be starting over Lowry once he is back from his early season foot injury.
Duncan Robinson, Thomas Bryant and rookie Jaime Jaquez Jr. all provided sparks off the bench.
Robinson especially was extremely impressive.
The sharpshooter has showed time and time again over the last year or so that he has worked hard on adding other facets to his game besides just being a 3 point shooter, and tonight wasn't any different.
He was slashing, cutting, moving without the basketball, and was efficient. Robinson finished with 15 points to lead the second unit.
Jaquez Jr. demonstrated some super impressive footwork with the ball in his hands, and even had some standout defensive plays.
Bryant is a clear upgrade over the likes of Dewayne Dedmon and Cody Zeller last season as the back up big behind Adebayo.
He brought some great energy and seems to be able to play to his role very nicely.
The Heat will now get ready for an Eastern Conference Finals rematch on Friday night as the team heads to Boston.
Tip off will be at 7:30 PM ET on ESPN.