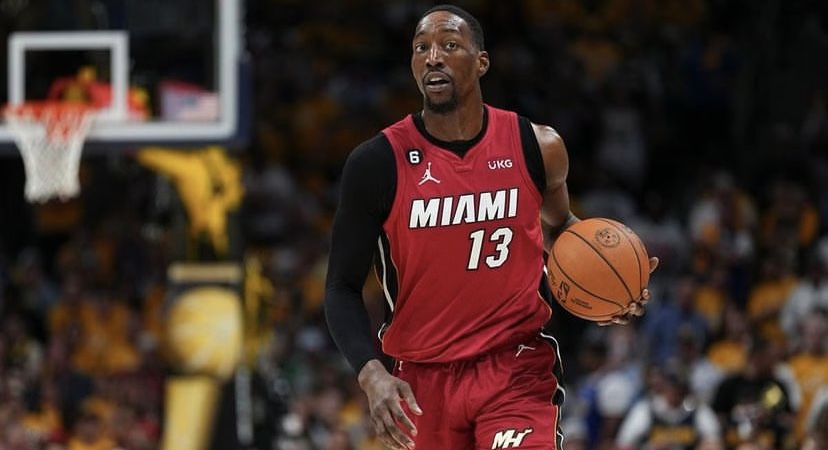 The Miami Heat are coming off a hard fought loss in TD Garden against the Boston Celtics going into tonight's matchup.
On the second night of a back to back, Miami will head to Minnesota to play the Timberwolves.
Miami hasn't won in a while in Minnesota, but the squad will try to change that narrative tonight with a bounce back win hoping to improve to 2-1 on the season.
Last night's game featured an undermanned Heat against one of the top two teams in the Eastern Conference at full strength. Caleb Martin was initially listed as probable to play last night, but was downgraded to out closer to tip-off. Josh Richardson and Haywood Highsmith still remained out. All three of those guys are important rotation pieces.
It is yet to be seen what the injury report is looking like for tonight, but it is expected for Highsmith and J-Rich to be unavailable.
Tyler Herro and Bam Adebayo both had nice outings yesterday. Herro finished with a team high 28 points, 6 rebounds and 6 assists on 10/19 shooting. Adebayo had 27 points, 7 rebounds and 2 blocks on 10/24 shooting. They both started hot, but did cool down towards the end of the game.
Jimmy Butler on the other hand only contributed 14 points and struggled to shoot the ball going 3/11 on the night. It is clear that Butler is in regular season mode. However, it would be nice to at least see something similar to last season in the sense of him coasting through most regular season minutes but still being the closer come crunch time.
A huge note going into tonight is the bounce back performance from Kyle Lowry. He put together a nice outing in Boston and was a spark at points during the game. The starting PG finished with 13 points, 8 rebounds and 5 assists on 5/7 shooting and three 3 point makes.
Contributions like that is really all they need coming out of Lowry. To just be involved offensively and shoot efficiently is more than solid for him and his role on this team. Now it just comes down to if he can put that together more consistently, especially if he is going to remain as a starter.
Miami will have their hands full tonight with the Anthony Edwards and Karl-Anthony Towns combo.
Edwards is a guy who can absolutely light up and explode offensively on any given night. Depending on Martin's availability, his perimeter defense could be a big factor for tonight.
They also need to keep Towns and Rudy Gobert off the glass, more so for offensive rebounds and extra possessions for Minnesota.
Kevin Love should continue being a help in that department alongside Adebayo in the frontcourt. Love has rebounded the ball very well in his first games of the season as the starting PF. He will continue to get limited minutes just because of his age and role, but he has been very effective as a floor spacer, rebounder and outlet passer in those minutes just like he was in the playoffs.
Coach Spoelstra has been opting to go with the savy veteran starters in Lowry and Love for the closing lineups as well, rounding out the big three of Buter, Herro and Adebayo.
Any of Martin, Highsmith and Josh Richardson could get some closing minutes once they are integrated back into the rotation.
Tonight's game will be aired on Bally Sports Florida and set to tip off at 8:00 PM ET.
Injury Report (at the time of this publishing):
Miami Heat:
Minnesota Timberwolves:
Jaylen Clark (achilles) — OUT
Jaden McDaniels (calf) — Doubtful
Projected Starting 5:
Miami Heat:
Kyle Lowry, G
Tyler Herro, G
Jimmy Butler, F
Kevin Love, F
Bam Adebayo, C
Minnesota Timberwolves:
Mike Conley, G
Anthony Edwards, G
Nickeil Alexander-Walker, G/F
Karl-Anthony Towns, F/C
Rudy Gobert, C
Betting Lines (at the time of this publishing):
Broadcast Info:
Tipoff: 8:00 PM EST
TV: Bally Sports Sun (Eric Reid, John Crotty)
Radio: AM 560 Sports WQAM & The HEAT Radio Network (Jason Jackson)
Spanish Radio: WAQI 710 AM & The HEAT Spanish Radio Network (José Pañeda)
Come back to Hot Hot Hoops at game time to join our GameThread and chat about the game live with other Heat fans!
Thank you for reading Hot Hot Hoops – Miami Heat NBA Blog. This post is public so feel free to share it.