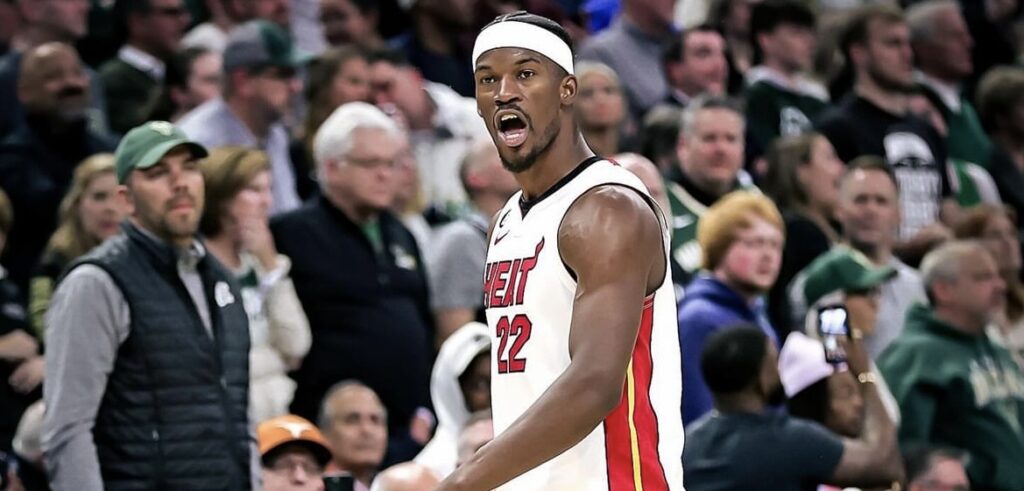 The Miami Heat are coming off dropping two straight games in back to back nights against the Boston Celtics and Minnesota Timberwolves over the weekend.
Tonight, yet another big test approaches with a matchup against Damian Lillard, Giannis Antetokounmpo and the Milwaukee Bucks.
The game will conclude Miami's 3 game road trip.
The Heat will be getting back two of their starters who sat out on Saturday night in Minnesota. Jimmy Butler didn't play for rest, as Kevin Love didn't play with a sore shoulder.
Butler is off the injury report and ready to go, as Love is currently listed as probable.
The first time facing Milwaukee for Butler since averaging a monstrous series stat-line of 37.6 PPG, 6.0 RBS and 4.8 ASSTS on route to a first round upset and gentleman sweep a few months ago.
A big storyline for this game is what the potential performance from Lillard will look like.
Every NBA fan knows about the long drawn out Lillard saga that took place over the summer, where the superstar point guard requested to specifically be traded from the Portland Trail Blazers to the Miami Heat.
Portland did not respect or accommodate their 11 year franchise player's request, and now here we are watching him rep a rival Eastern Conference contender's jersey instead.
Lillard had some comments ahead of the matchup.
Damian Lillard called tonight's matchup against the Heat "another game." pic.twitter.com/tLDvF5MD1W

— NBA on ESPN (@ESPNNBA) October 30, 2023
It will also be a great opportunity for Tyler Herro, who's name was heavily rumored to be thrown around in those Lillard trade talks.
Last playoffs, Herro was balling out in game 1 in Milwaukee before going down with that season ending hand injury.
He is still trying to prove just how valuable he is as a player to this team and showcase his development.
Last time Tyler Herro was in the Bucks building, he came out firing in that game 1 against that drop

Now he's back…against the guy he was in trade talks with all off-season

Should be a good one tonight

— Brady Hawk (@BradyHawk305) October 30, 2023
The Heat will have to try to limit and slow down that Lillard/Antetokounmpo superstar combo; arguably the greatest duo in the entire association statistically.
Besides that, they need to keep their main supporting guys in check offensively as well. Kris Middleton and Brook Lopez are two guys who can also fill up that stat sheet real quick.
Love's return to the lineup should help with Lopez's rebounding.
Tonight's game is set to tip off at 8:00 PM ET on Bally Sports Florida.
Injury Report (at the time of this publishing):
Miami Heat:
Haywood Highsmith (knee) — OUT
Kevin Love (shoulder) — Probable
Josh Richardson (foot) — Doubtful
Caleb Martin (knee) — Doubtful
Milwaukee Bucks: 
Projected Starting 5:
Miami Heat:
Kyle Lowry, G
Tyler Herro, G
Jimmy Butler, F
Kevin Love, F
Bam Adebayo, C
Milwaukee Bucks:
Damian Lillard, G
Malik Beasley, G
Kris Middleton, G/F
Giannis Antetokounmpo, F
Brook Lopez, C
Betting Lines (at the time of this publishing):
Broadcast Info:
Tipoff: 8:00 PM EST
TV: Bally Sports Sun (Eric Reid, John Crotty)
Radio: AM 560 Sports WQAM & The HEAT Radio Network (Jason Jackson)
Spanish Radio: WAQI 710 AM & The HEAT Spanish Radio Network (José Pañeda)
Come back to Hot Hot Hoops at game time to join our GameThread and chat about the game live with other Heat fans!
Thank you for reading Hot Hot Hoops – Miami Heat NBA Blog. This post is public so feel free to share it.