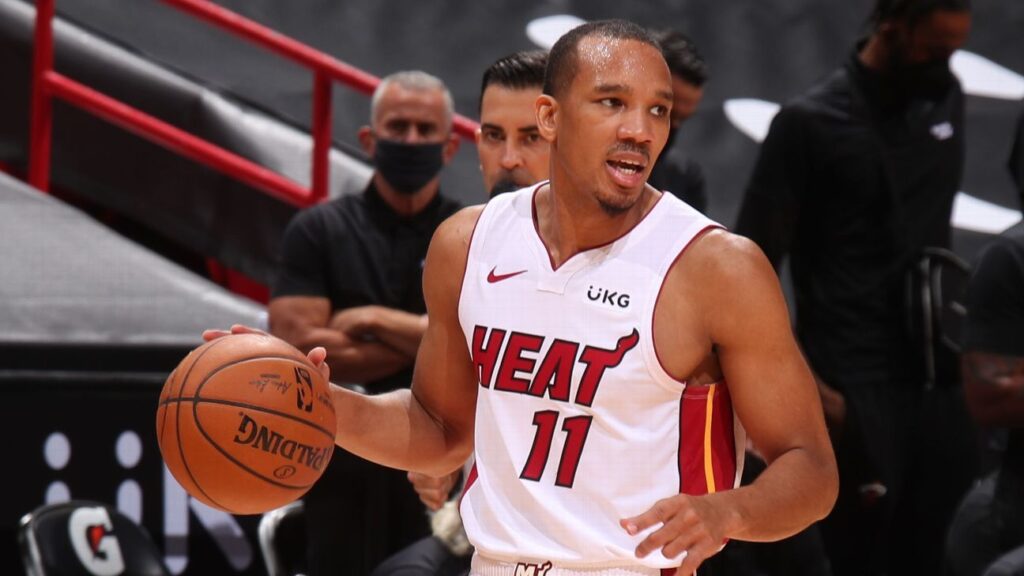 Ex-Miami Heat guard Avery Bradley has had a nice career in the NBA as a defensive minded player. His best days were with the rival Boston Celtics, but he did rep a Heat jersey after signing as a free agent in the summer of 2020.
Sadly, his Heat tenure was very much short lived.
After having injury problems pretty much the entire half season he was here, he was traded at the deadline.
Years later, he has sat down for a private interview with 'Betway' and spoke about some Miami Heat related topics. Some of the key topics included:
Jimmy Butler's emo look

Unfortunate they couldn't add in free agency

Predicts the Heat won't make it to back-to-back Finals

No chance of beating the Bucks with Lillard
When asked these questions he went into detail with some of his reactions and/or explanations.
Jimmy Butler has been making headlines for his new emo hairstyle. Did you catch that, and what did you make of it?
"I did. I like it. I mean, it's entertainment. He wanted everyone to know that he's upset, he's sad, he's in his feelings. It's unfortunate that they weren't able to get some of the big free agents or make some big trades happen this summer, but they're a good organisation, great coach. They're still in the pack every single year, because of their culture."
Do you think there's a chance for them to make it back to the Finals this year and maybe even get over that hump and finally win that championship for Jimmy Butler?
"I don't. I feel like they will maybe get to the second round of the playoffs. I don't want to just say no, because Erik Spoelstra is such a good coach and when it comes to playoff basketball, he's just able to really get the guys to lock in, and his game plan is going to be on point. He's going to prepare the players and put them in position to be successful. But I just feel like the Bucks with Damian Lillard – it's hard to beat those guys. They've been able to beat Milwaukee in the past, but not this year. Not with Dame, it's just not happening."
Hopefully, Bradley is proven very wrong with these takes.
After all, the Milwaukee Bucks were the best team in the entire NBA going by the standings last season as the Miami Heat just barely snuck into the post season. The Heat had to go through 2 play-in games just to reach the playoffs, but pulled off the historical 4-1 series upset against the Bucks in the first round as an 8 seed.
Yes, Milwaukee added superstar talent Damian Lillard of course, but they also lost defensive juggernaut Jrue Holiday in the process.
It is yet to be seen how the Lillard and Giannis Antetokounmpo pairing will turn out, and with both of them health is always a factor.
The Bucks just beat the Heat 122-114 on Monday evening as Lillard dropped 25 points on the team that he originally wanted to be on after demanding a trade from Portland.
However, regular season matchups are almost pointless to judge as a Heat fan considering how they translated their regular season mediocrity to an NBA Finals run.
A moral victory from that game the other night could be Tyler Herro's performance compared to Lillard's. Herro was heavily rumored to be a centerpiece in trade talks for Lillard over the summer, and after everything fell through, the 23 year old guard has a lot to prove going into 2023-2024.
Herro dropped a season high (so far) 35 points, 8 rebounds and 3 assists on 57% shooting, while also looking more and more like he is making some serious improvements as a defensive player now.
Lillard had a statline of 25 points, 5 rebounds and 4 assists on 50% shooting.
There is a long season ahead of us, and regardless if people like Avery Bradley may not have faith in this Heat team, anything can happen no matter what the standings and regular season look like.
Here is the link to full Bradley interview with 'Betway':
https://betway.com/en/sports/grp/basketball/usa/nba