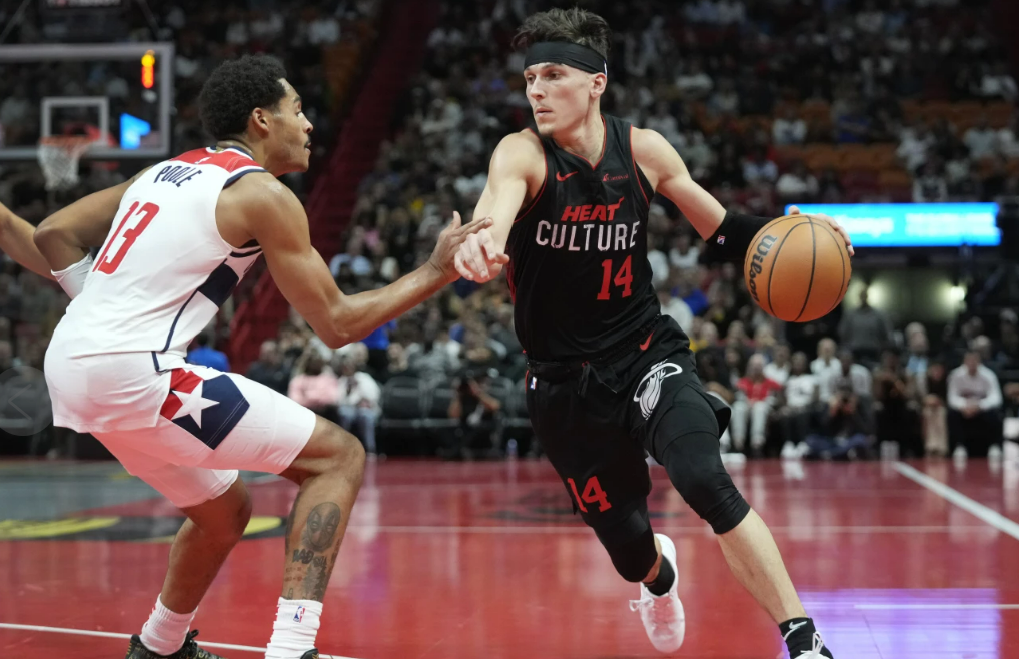 In the midst of a four-game losing streak, the Miami Heat needed a jolt of life outside of the demonstratively red court featured for the first inaugural in-season tournament.
They got that Friday night, picking up a 121-114 win over the Washington Wizards, picking up their second win of the season. It did not come without a sweat, as a once-25-point lead trickled down to 10 points in a 2:38 span late in the final quarter, but Miami's aforementioned cushion–in addition to key plays from Tyler Herro and Jimmy Butler–helped it fend off Washington late.
Miami featured six double-figure scorers, led by Herro, who posted 24 points, 10 rebounds, nine assists and two steals on 9-of-17 shooting, including 4-of-7 from beyond the arc. Butler had 20 points with seven rebounds on 7-of-11 shooting. Bam Adebayo finished with 18 points on 8-of-14 shooting.
It got an incredibly productive evening from its bench with 48 bench points on a combined 20-of-29 shooting. Duncan Robinson tallied 18 points on 7-of-11 shooting and 4-of-8 from deep, while Thomas Bryant and Josh Richardson scored 11 and 10 points, respectively.
Friday marked Miami's most efficient shooting output of the season, knocking down 60 percent of its attempts, including 13-of-27 (48.1 percent) from 3-point range. Washington also shot 56.8 percent after beginning 10-of-11, canning 13-of-28 from deep. Miami connected on 13 of 27 from deep.
The Heat had 58 points to Washington's 64; they also outrebounded Washington by seven (37-30) and finished with one fewer turnover (20-19).
The Heat begin Group B play 1-0 and will not have another in-season tournament game against the Charlotte Hornets on Nov. 14. They close out their road trip on Monday against the Los Angeles Lakers in Gabe Vincent's return to Miami.
This is a developing story. Stay tuned for updates.