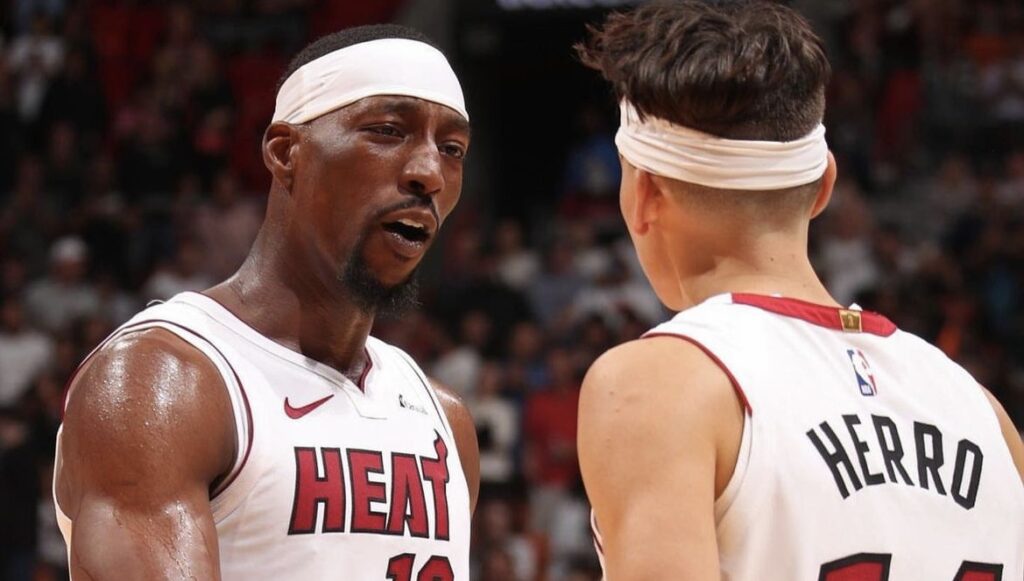 After a much needed 121-114 bounce back win in Miami's game against the Washington Wizards on Friday evening, the squad will now take on LeBron James and the visiting LA Lakers.
Gabe Vincent, although listed as OUT tonight with a knee injury, will be returning to South Beach. Former Heatle in James will also run it back in his old arena against his former team.
These two teams matched up in the 2020 NBA Finals and four years later are still legit contenders in this association.
The in-season tournament win on Friday for the Heat had lots of bright sides to talk about. They snapped their 4 game losing streak and improved to 2-4 on the season.
The entire team collectively shot the ball super efficiently- 60% from the field overall along with 48% from 3 point range. They also won the rebound battle 37-30.
The big 3 of Jimmy Butler, Tyler Herro and new team captain Bam Adebayo played extremely well.
Herro is proving to be more of a well-rounded player as each game goes by; 1 single assist shy of a triple double to go along with 24 PTS and continues to get into those passing lanes, upping his two-way stock.
Duncan Robinson was huge off the bench with 18 PTS and 4 3's. Thomas Bryant, Josh Richardson and Jaime Jaquez Jr. brought some energy as well.
Haywood Highsmith, who started as the PF in that game went down after a knee collision early in the game. However, he is not listed on the injury report for tonight.
It will be interesting to see if Highsmith, who has played exceptionally well and shooting the ball at a career high clip, will continue to be the starter.
Kevin Love has been filling that spot, and he has played well too.
Tonight, the guys need to focus on winning that rebounding battle again and taking care of Anthony Davis on the glass.
James is obviously someone else who needs to be held in check, and not allow him to control the flow of the game.
Tonight's 2020 Finals rematch will tip off at 7:30 PM ET and be nationally televised on NBA TV.
Injury Report (at the time of this publishing):
Miami Heat:
Caleb Martin (knee) — OUT
Jimmy Butler (knee) — Probable
Duncan Robinson (wrist) — Probable
RJ Hampton (stomach illness) — Questionable
LA Lakers:
Jarred Vanderbilt (heel) — OUT
Gabe Vincent (knee) — OUT
Rui Hachimura (concussion) — OUT
Jalen Hood-Schifino (patella) — OUT
Jaxson Hayes (ankle) — Questionable
Projected Starting 5:
Miami Heat:
Kyle Lowry, G
Tyler Herro, G
Jimmy Butler, F
Kevin Love, F
Bam Adebayo, C
LA Lakers:
D'Angelo Russell, G
Austin Reaves , G
Cam Reddish, F
LeBron James, F
Anthony Davis, F/C
Betting Lines (at the time of this publishing):
Broadcast Info:
Tipoff: 7:30 PM EST
TV: NBA TV & Bally Sports Sun (Eric Reid, John Crotty)
Radio: AM 560 Sports WQAM & The HEAT Radio Network (Jason Jackson)
Spanish Radio: WAQI 710 AM & The HEAT Spanish Radio Network (José Pañeda)
Come back to Hot Hot Hoops at game time to join our GameThread and chat about the game live with other Heat fans!
Thank you for reading Hot Hot Hoops – Miami Heat NBA Blog. This post is public so feel free to share it.