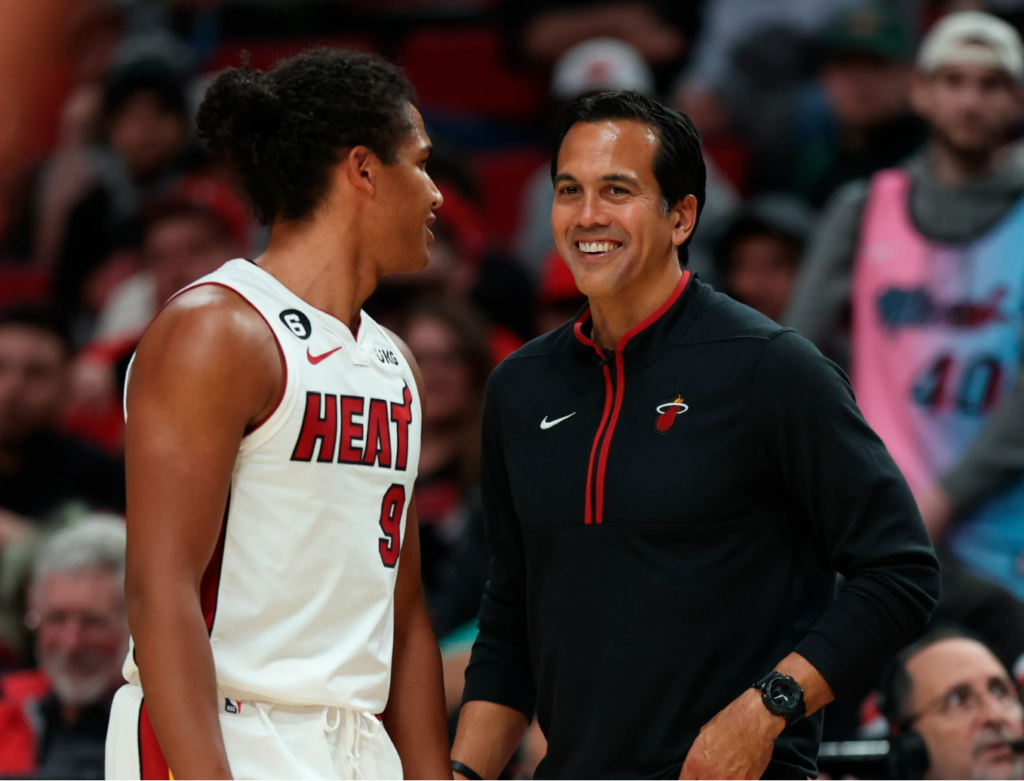 While the Miami Heat shored depth around the rest of their roster this offseason, they lack positional depth at one position: Point guard.
Most of their offseason was ingrained in the Damian Lillard saga, though they left those crusades empty-handed. Miami also failed to retain guard Gabe Vincent, who signed a three-year, $33 million deal with the Los Angeles Lakers on the opening day of free agency.
The Heat had a decision to ponder regarding their 14th roster spot heading into the new season–and, to the surprise of some, they converted point guard Dru Smith as a positional need over Jamal Cain and R.J. Hampton, among others.
Smith has appeared in six of the Heat's 10 games to begin the season in a minimal role, averaging 6.5 points, 2.2 rebounds and 2.3 assists on 46.9 percent shooting and 43.8 percent from deep. He has dished out 14 assists to just five turnovers, sporting a 59.3 percent true shooting percentage with a 13.8 player efficiency rating.
The undrafted guard has been used with myriad combinations, and while they all haven't churned out the best results, Heat head coach Erik Spoelstra was complimentary of Smith's impact so far in the rotation this week.
"Dru was good throughout all the stuff that he does," Spoelstra said after Sunday's 118-113 win over the San Antonio Spurs, according to Ira Winderman of The South Florida Sun Sentinel. "Ninety percent of it doesn't show up in the box score, but coaches and teammates understand what he does."
Despite playing in only six games, Smith is the team's leader in total deflections (23) and, thus, deflections per 36 minutes (6.7!!!)-a mark that's second in the NBA among those who have played at least 50 minutes.
He's taken on assignments well at the point-of-attack–no matter how arduous–regardless if the Heat has been pressing, in man or spearheading Miami's 2-3 zone.
"Just trying to continue to impact winning more than anything else," Smith said. "Really, whenever I get out there that is all I'm trying to do, is trying to make plays that are helping inch us close to wins."
Smith may not fit the NBA's mold of the prototypical point guard, but has found an even role off the bench as a secondary playmaker. His defense, dating back to his college days, has also been there–but it's the decision-making that's drawn the most questions. So far, that hasn't been the issue with Smith offering some semblance of stability off the bench.
***
To check out our other content, click here.