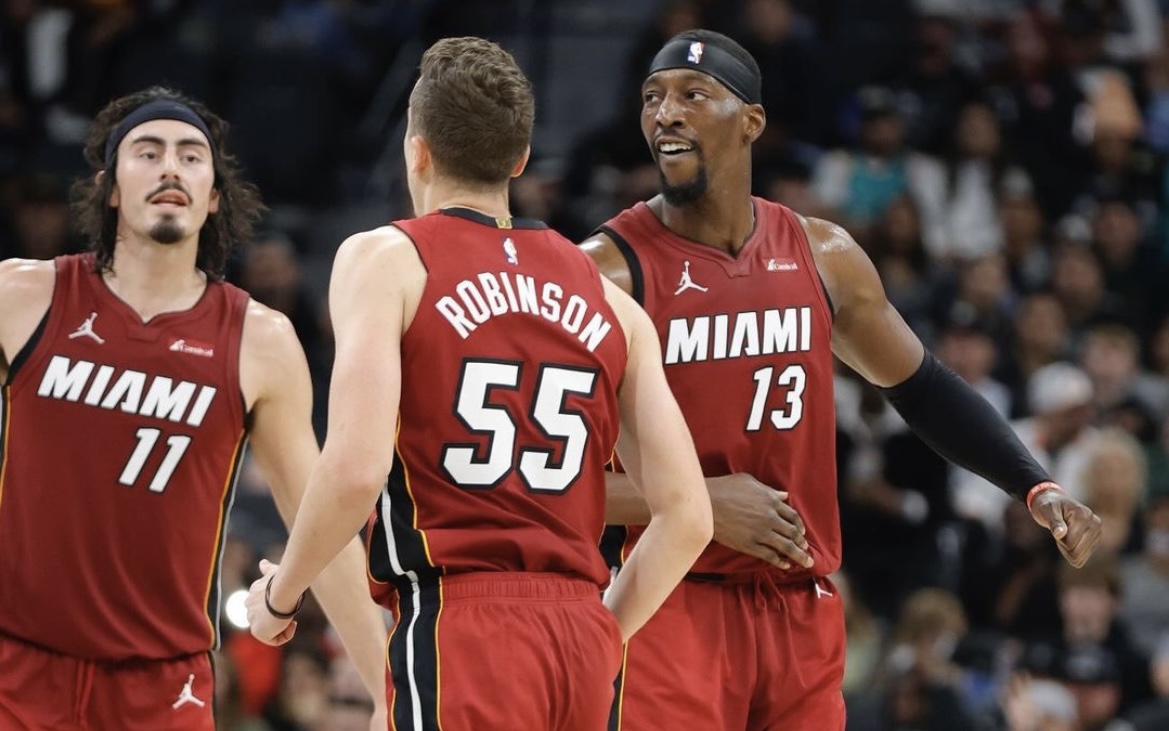 The Miami Heat are heading into another road matchup against the 3-6 Charlotte Hornets. Miami is riding a 5 game win streak and now sports a 6-4 record, climbing from 15th to 3rd place in the Eastern Conference after opening the season at 1-4.
This game has in-season tournament credibility attached to it, as the Heat are fighting for the top seed for the newly integrated tournament.
The Heat are coming off 2 very solid wins in a back to back against first the Atlanta Hawks and then the San Antonio Spurs over the weekend.
In the Spurs game, Miami saw themselves go down by as many as 19 points in the first half just for Duncan Robinson to put on a shooting clinic and fuel the come back win.
Bam Adebayo continued his absolutely dominant run in the month of November with another 20+ point double double, to go along with stellar defense against rookie phenom Victor Wembanyama.
For all of last week where Miami went 4-0, Adebayo has averaged 25.5 PPG, 14.5 RPG, 5.2 APG, 1.7 BLKS and 2.0 STLS on 54% shooting.
It is looking like in year 7 of his excellent career and the age of 26, Adebayo is looking to make that All-Star caliber to All-NBA talent leap in his game.
Besides Adebayo, the role players have really been stepping up as of late too. Robinson has down a beautiful job stepping in for the injured Tyler Herro in the starting group.
Josh Richardson is finally getting into a bit of a rhythm, Jaime Jaquez Jr. continues to gain more trust with coach Spoelstra as a regular rotation piece, and the team has yet to lose a single game (5-0) since Haywood Highsmith has been inserted into the starting group.
Even Kevin Love has been getting seeing some bench minutes and being very productive, hitting timely 3 point shots and setting charges.
Kyle Lowry, who sat the last game for rest, is not on the injury report and is expected to be back in the lineup tonight.
Richardson is listed as probable with back soreness, and Caleb Martin and Herro remain out. However, a Martin return for the Heat could be very close.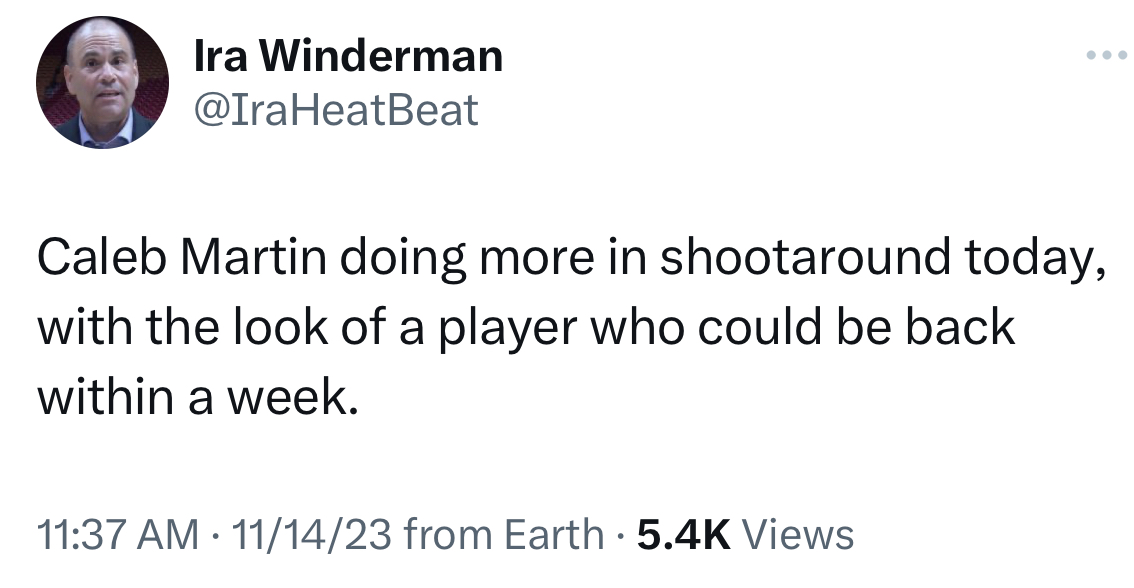 The Hornets are going into tonight pretty banged up themselves. Key guys like Terry Roizer, Miles Bridges and Cody Martin, Caleb Martin's twin brother, are all listed as out.
It will be important to not let Lamelo Ball get going offensively. Also to not lack off on Gordon Hayward, who has seemed to be pretty effective in Miami matchups still over the years.
Tonight's game will tip off at 7:00 PM ET on Bally Sports Florida.
Injury Report (at the time of this publishing):
Miami Heat:
Caleb Martin (knee) — OUT
Josh Richardson (back) — Probable
Tyler Herro (ankle) — OUT
Jamal Cain (g league) — OUT
RJ Hampton (g league) — OUT
Charlotte Hornets:
Gordon Hayward (hamstring) — Probable
Brandon Miller (ankle) — Probable
Cody Martin (knee) — OUT
Terry Roizer (groin) — OUT
Miles Bridges (suspension) — OUT
Frank Ntilikina (tibia) — OUT
James Bouknight (knee) — OUT
Projected Starting 5:
Miami Heat:
Kyle Lowry, G
Duncan Robinson, G
Jimmy Butler, F
Haywood Highsmith, F
Bam Adebayo, C
Charlotte Hornets:
Lamelo Ball, G
Gordon Hayward, G/F
Brandon Miller, F
PJ Washington, F
Mark Williams, C
Betting Lines (at the time of this publishing):
Broadcast Info:
Tipoff: 7:00 PM EST
TV: Bally Sports Sun (Eric Reid, John Crotty)
Radio: AM 560 Sports WQAM & The HEAT Radio Network (Jason Jackson)
Spanish Radio: WAQI 710 AM & The HEAT Spanish Radio Network (José Pañeda)
Come back to Hot Hot Hoops at game time to join our GameThread and chat about the game live with other Heat fans!
Thank you for reading Hot Hot Hoops – Miami Heat NBA Blog. This post is public so feel free to share it.