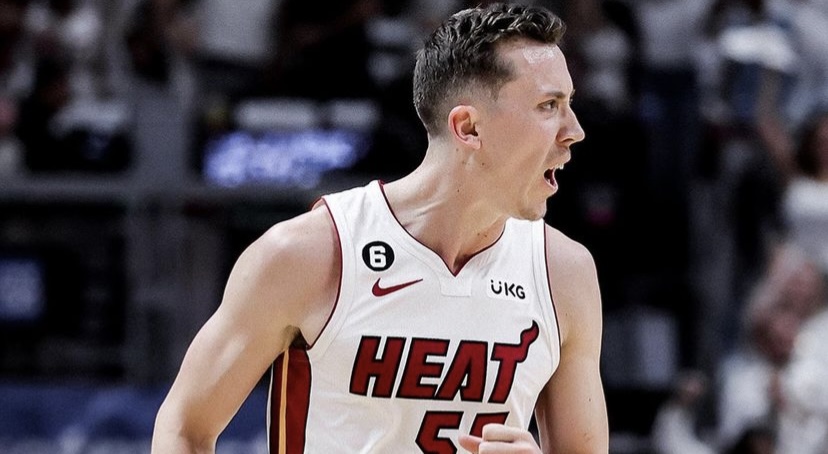 The Miami Heat started the new season with a record of 1-4, and at one point sat at the very bottom of the entire Eastern Conference at 15th place. Since then, this team has pulled together a 5 game winning streak.
The Heat beat the San Antonio Spurs on the road 118-113, improving to 6-4 on the season and now currently sitting in 3rd place in the Conference standings.
Led by Duncan Robinson and Bam Adebayo, there were 7 players out of the 9 in the rotation tonight that put up double figures in scoring.
#HEATWin final – Miami 118, San Antonio 113

🔥 Robinson: 26pts (4 3s), 5rebs, 4asts
🔥 Adebayo: 24pts, 11rebs, 6asts, 3stls
🔥 Butler: 19pts, 6rebs, 4asts
🔥 Richardson: 12pts, 4asts, 3rebs
🔥 Smith: 12pts, 4rebs, 3asts
🔥 Love: 12pts
🔥 Jaquez Jr: 11pts, 6rebs, 3asts, 3stls pic.twitter.com/LQ2v6lAAFg

— Miami HEAT (@MiamiHEAT) November 13, 2023
Robinson has been getting the starts at SG after Tyler Herro went down with a sprained ankle. Herro isn't expected to be missing significant time, but Robinson should be continuing to get opportunity as a starter for at least a couple weeks.
He had a team high +22 when being on the floor, and had a serious impact with his incredible shooting ability.
Duncan Robinson tonight:

26 PTS (game high)
5 REB
4 AST
8-16 FG
4-7 3PT
+22 (game high)

What a birthday🎂 pic.twitter.com/LdCUvASfqP

— HeatMuse (@Heat_Muse) November 13, 2023
It has been no secret that Robinson has absolutely worked on his all around game. Offensively he has turned into a balanced player that doesn't rely on just the 3 point shot anymore. He has been able to move well without the basketball, create offense for himself and others off the dribble and just simply look a lot more comfortable and patient with the ball in his hands.
Tonight, he displayed all those skills while shooting the ball at an extremely impressive clip; 50% from the field and nearly 60% from 3 point range.
Adebayo also continues making his early case for a 3rd straight All-Star appearance.
Bam in the win:

24 PTS
11 REB
6 AST
3 STL
10-20 FG (50%)

Fourth (‼️) straight game with 20+ PTS and 10+ REB pic.twitter.com/FUHYr1MZcK

— HeatMuse (@Heat_Muse) November 13, 2023
This man has already arrived. He is about to enter the official beginning of his prime years and the versatile big man is straight special.
Adebayo continues to age, mature, and just become more and more polished. There has never been a single thing he can't do on a basketball court.
He continues to carve out such a pivotal role on both ends of the floor as the new Miami Heat captain; stuffing the stat sheet night in and night out on route to big wins.
The Heat have been able to stack up these wins even with superstar Jimmy Butler looking like he's "coasting". Butler put up 19 points and 6 rebounds tonight in effortless fashion, and everybody knows how proud he is to see his other teammates excel early on in the regular season.
With no Kyle Lowry due to rest tonight, the Josh Richardson and Dru Smith PG combination tonight was super solid. They both put up 12 points apiece; as Richardson has started to come around and find a rhythm offensively.
Richardson started this season a little rusty, which should be expected since he had some minor injuries early and hasn't been in this system in years. However, he has bounced back in the last 2 wins.
Dru Smith has been slowly starting to get Heat fans attention with his scrappy defense and nice shooting efficiency. He made a lot of nice strong drives to the rim tonight, including some much needed ones when the team was down big early on.
After moving to the bench while seeing Haywood Highsmith take over the starting PF spot, Kevin Love has gotten minutes in a now bench role over the last 2 wins.
Love has been playing as the back up big over Thomas Bryant this past weekend. Love put together a nice night with 12 points and 3/8 from the field, 2/7 from long range.
The Heat trailed by as many as 19 points tonight, but stormed right back.
Heat were down 19 tonight in San Antonio…

– Ties biggest Miami comeback win since 1/18/21.
– Biggest Miami road comeback win since 10/26/19.
– Heat had lost 50 consecutive games when trailing by 19 or more.
– Heat had lost 41 consecutive road games when trailing by 19 or more.

— Tim Reynolds (@ByTimReynolds) November 13, 2023
After a rocky start to the evening, Miami shot 44% from the field, 39% from 3 and 93% from the free throw stripe. The team was 28/30 from the line; a very good sign of showing the teams aggression and efficiency.
They also took care of the basketball extremely well with just 4 turnovers compared to San Antonio's 17.
Most importantly, superstar talent in the making Victor Wembanyama struggled to shoot the ball tonight and was forced into some difficult shots and turnovers.
Victor Wembanyama vs the Heat:

◾️8/22 FG
◾️2/9 3P
◾️7 turnovers

— 𝙃𝙀𝘼𝙏 𝙉𝘼𝙏𝙄𝙊𝙉 (@HeatvsHaters) November 13, 2023
Adebayo was the catalyst, as he usually is, and set the tone defensively by keeping Wemby in check.
The Heat will get back to it on Tuesday in Charlotte against the Hornets, looking to extend this 5 game win streak even more.
Tip off will be set for 7:00 PM ET on Bally Sports Florida.