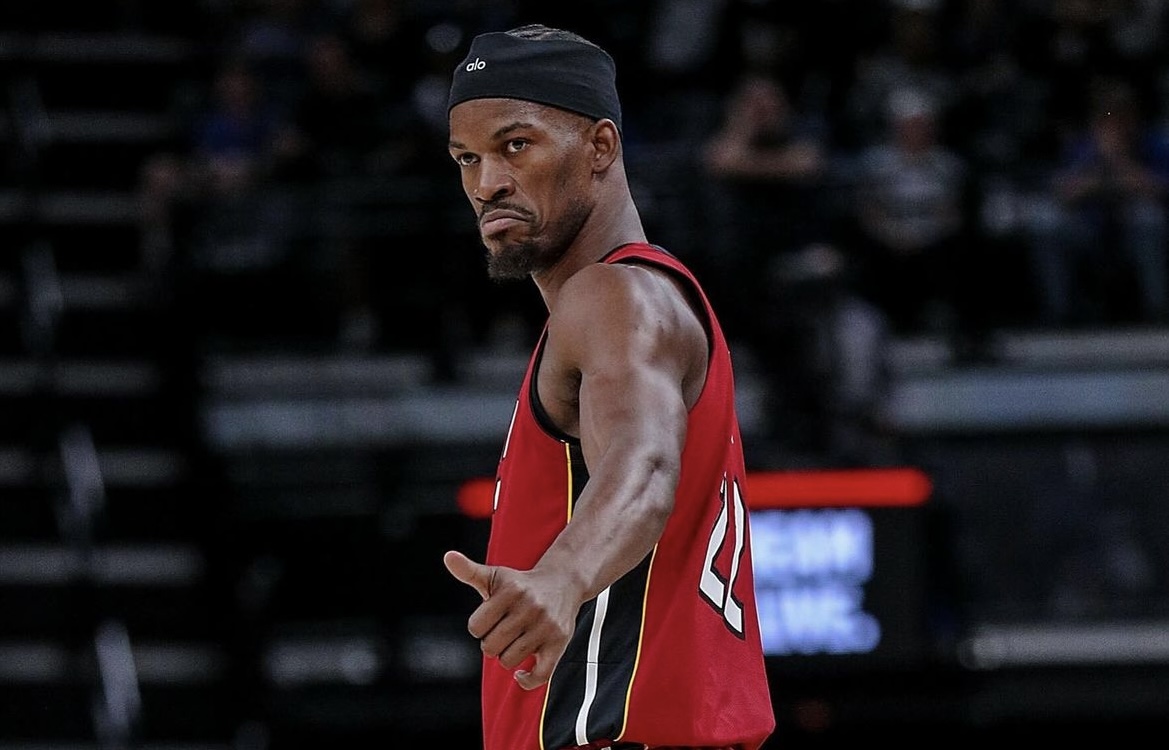 The Miami Heat are surging in the NBA right now, as they currently stand alone with the longest win streak in the entire association. They take down the Brooklyn Nets 122-115 on their home floor and improve to 8-4 on the season.
#HEATWin final – Miami 122, Brooklyn 115

🔥 Butler: 36pts, 5reb, 3ast, 3blk
🔥 Robinson: 26pts, 6 3PM
🔥 Adebayo: 20pts, 7reb, 4ast
🔥 Jaquez Jr.: 10pts, 5ast, 4reb pic.twitter.com/4BO3YakAqk

— Miami HEAT (@MiamiHEAT) November 17, 2023

That 8-4 record has separated themselves from a tie at 3rd in the Eastern Conference standings; now they are the lone team as the 3rd seed.
A win against Brooklyn was also well overdue. The Nets had their number against the Heat as of late; they sported a 5+ game winning streak themselves over the past 2 seasons in matchups against Miami.
The Nets were actually the last team to have handed the Heat a loss over a couple weeks ago, so tonight was an awesome revenge game in that regard.
Jimmy Butler has now recorded two straight 30+ point performances. He followed up his season high 32 points against the Charlotte Hornets the other night with a new season high of 36 points a few hours ago against Brooklyn.
Jimmy Butler's last two games:

36 PTS | 5 REB | 3 AST | 63% FG
32 PTS | 4 REB | 5 AST | 71% FG

Him and Giannis are the only two players this season to score 32+ PTS and shoot 60% or better from the field in consecutive games🔥 pic.twitter.com/cE2NEGE8ji

— HeatMuse (@Heat_Muse) November 17, 2023

Butler also had 5 rebounds, 3 assists, 1 steal and 3 blocks on 12/19 shooting. He was 2/5 from 3 point range, 10/11 from the free throw line and a +9 when on the court.
Himmy Butler is here🔥 last 2 games:

– 32 PTS, 5 ASTS, 4 RBS, 71% FG (W vs Hornets)
– 36 PTS, 5 RBS, 3 ASTS, 63% FG (W vs Nets)

Jimmy & Giannis Antetokounmpo are the ONLY two players this season to score 32+ PTS and shoot 60% or better from the field in consecutive games. (via… pic.twitter.com/k5pCFj5d2W

— Hot Hot Hoops (@hothothoops) November 17, 2023

It has been real nice to see Miami's superstar talent come around and string together some elite performances. During the Heat's slow 1-4 start to this season, Butler himself specifically showed some struggles.
Now, he's putting up some bigger numbers in the box score and doing it at an effortless pace; just making it look easy out there.
It isn't just Butler though, his co-star in Bam Adebayo has been just as impressive. Adebayo put together a 20 point, 7 rebound and 4 assist night during this Brooklyn win. He also contributed 2 steals and shot 8/15 from the field.
Miami's duo in the W:

Jimmy — Bam —
36 PTS 20 PTS
5 REB 7 REB
3 AST 4 AST
3 BLK 2 STL
12-19 FG 8-15 FG
10-11 FT 4-4 FT

The Heat have won 7 in a row pic.twitter.com/AwAhSqrpIk

— HeatMuse (@Heat_Muse) November 17, 2023

What makes the Jimmy/Bam duo so dominant is how well they shoot the ball; efficiently and effectively. The current 7 game win streak is the longest of the Jimmy/Bam era in the last 5 seasons.
Here is an Erik Spoelstra stat to go along with that:
Heat at 1-4 — Erik Spoelstra's worst start.

Heat at 8-4 — Ties for Erik Spoelstra's fourth-best start.

16 days apart.

— Tim Reynolds (@ByTimReynolds) November 17, 2023

It doesn't just start and end with Jimmy Butler, Bam Adebayo or even Tyler Herro with this year's Heat squad and their recent success.
The rotation players have been super impressive, as everybody knows and understands their role and what they need to do on a nightly basis to contribute towards a W.
With Herro still sidelined with his ankle sprain, Spoelstra went with the same starting 5 of Kyle Lowry, Duncan Robinson, Butler, Haywood Highsmith and Adebayo.
Josh Richardson, Jaime Jaquez Jr., Kevin Love and Caleb Martin rounded out the 2nd unit off the bench to complete the team's 9 man rotation.
It was Martin's real season debut, and although only playing 12 limited minutes coming off a lingering knee injury, he played well and was able to knock down a couple 3 pointers.
The real unsung hero in this Heat win streak has truly been Duncan Robinson, who has been lighting it up offensively for a while now.
Robinson was Miami's second leading scorer for 2 consecutive wins with 26 points on 8/14 shooting and 6/10 from 3 point range as the starting SG in Herro's absence.
Robinson has been absolutely feeling it offensively this season and has shown clear signs of improvement in his all around game, becoming more effective moving without the basketball and playmaking.
He has stepped up huge in a a starting role at the SG position for the injured Tyler Herro.
In the Heat's 7-game winning streak Duncan Robinson is averaging 17.1 points, 3.4 assists, 3.3 rebounds, 48.2% FG, 41.1% 3PT, and 93% FT in 33.3 minutes a game. (via @statmuse) pic.twitter.com/V38vXj4Hkd

— Naveen Ganglani (@naveenganglani) November 17, 2023

He has been able to put the ball on the floor and create offense either for himself or others. It's been encouraging to also see him taking some strides on the defensive end as well and hold his own.
Duncan Robinson's last 3️⃣ games:

– 26 PTS, 6 3P, 4 FTM (W vs Spurs)
– 18 PTS, 4 3P, 2 FTM (W vs Hornets)
– 26 PTS, 4 3P, 6 FTM (W vs Nets)

Shooting 51/52/100% in that span (via StatMuse)

Miami still 'runs on Duncan'😮‍💨🍩 pic.twitter.com/LVeUVRsqFj

— Hot Hot Hoops (@hothothoops) November 17, 2023

Jaime Jaquez Jr. is another guy who has consistently been a very effective role player as of late. Tonight he put together 10 points, 5 assists and 4 rebounds on 4/9 shooting and 2/5 from 3 point range.
Jaime Jaquez Jr. is averaging 12.4 points, 4 rebounds, 2.7 assists, 1.1 steals, 55% FG, 35% 3PT, and 88% FT in 28.3 minutes per game during the Heat's 7-game winning streak.

He has also played the entire 4th quarter in 5 straight games.

Not your typical rookie 🔥 pic.twitter.com/qiyudbjAq7

— Naveen Ganglani (@naveenganglani) November 17, 2023

Kevin Love, who began the season as the team's starting PF, was benched for Haywood Highsmith after the 1-4 start.
Love had some very minor injury issues early on and then even got some DNP's – coach's decision as Highsmith would start and then Thomas Bryant would be the back up big man.
Ever since the Atlanta Hawks game nearly a week ago though, Love has served as the team's main back up big man and Bryant has gotten spotty minutes- around 5 min of action here and there.
At this age and stage of his career, the veteran and former NBA All-Star and Champion in Love, does not need to be a starter or play a boatload of minutes every single night. He is still affective when given opportunities and is a perfect plug and play type of player.
Love recorded 7 points, 9 rebounds and 4 assists on 50% shooting and 1/3 from 3 point range in 16 minutes. He led the team with a +16 on the floor too.
Miami hasn't just gone 7-0 during this streak, but have also gone 7-0 ever since inserting Highsmith into that starting PF position this season. Highsmith has looked to be a beautiful front court fit next to Adebayo as a serious 3 & D role player.
18-1 all time, 7-0 this season when Highsmith gets the starting nod😳

📸: @dan_riccio10 pic.twitter.com/9cwG48rq7K

— Hot Hot Hoops (@hothothoops) November 17, 2023

The Heat held the starting backcourt of Spencer Dinwiddie and Mikal Bridges to a combined 8/24 from the field.
Miami also shot 52% compared to Brooklyn's 47%, 43% from 3 compared to Brooklyn's 39% and an extremely impressive and almost perfect 96% from the free throw line compared to Brooklyn's 78%. The Heat were 23/24 at the charity stripe; nearly perfect.
Miami took great care of the basketball with only 9 turnovers compared to 14 for Brooklyn, but lost the rebounding battle 40-32.
Regardless, it was the Heat who picked up the win.
It has been a great ride for this Heat team as of late and they will see if their streak can continue to 8 wins in a row with a Saturday night matchup against the Chicago Bulls on the road at 8:00 PM ET.
After the lone home game against Brooklyn, Miami now heads right back out for another 5 game road trip, making it 9 road games out of the last 10 games played once this next trip is over.