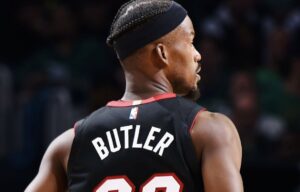 The Miami Heat got their 7 game winning streak snapped over the weekend in Chicago. After getting out to a serious 20-1 lead early on, the Chicago Bulls stormed back and completed the comeback win.
The Heat fell to 8-5 on the season as the Bulls improved to 5-9. Miami also fell down one spot in the standings to the 4th seed and remain 1.0 game behind the Milwaukee Bucks for the 3rd seed.
Ironically, it wasn't the first time a Heat winning streak ended in Chicago (the historical 2013 27 game winning streak).
In Saturday's game, Jimmy Butler, Bam Adebayo and Duncan Robinson all played very well.
Butler put up a statline of 25 points, 3 rebounds and 2 assists on 8/16 shooting while also keeping his own personal streak of knocking down 1 three pointer in each of the last 7 games.
Adebayo absolutely feasted in the first half of the game and to begin the second half. Although he did cool off a bit as he finished with 24 PTS, 10 RBS and 5 ASTS.
Robinson put up 17 PTS, 7 ASTS and 3 RBS on 5/9 shooting and 4/5 from three.
Outside of those 3, the rest of the rotation players struggled. There always needs to be at least a couple role players contributing efficiently on the offensive end, but the team was just cold.
Players like Kyle Lowry, Kevin Love, Jaime Jaquez Jr. and Caleb Martin are all going to look to respond from some rough shooting performances in the last game.
It is clear that Martin is showing signs of rust after being sidelined for pretty much the entire season due to injury. He is key to what Miami does, so look for him to slowly but surely get into a rhythm at some point.
Haywood Highsmith, who has been slightly struggling with his shooting recently, still made his presence felt as a two-way player with 3 STLS and a team high +20 on the court.
The Bulls made their presence known on the interior and on the defensive end. As a team they led the rebounding department 44-34, with 10 offensive boards compared to Miami's 5. They also had 6 blocks compared to Miami's 0.
The Heat also had 3 more turnovers on the night (15-12).
After getting handed their first loss in 2 weeks, tonight the Heat have a chance to respond.
Game will tip off at 8:00 PM ET on Bally Sports Florida.
Injury Report (at the time of this publishing):
Miami Heat:
Tyler Herro (ankle) — OUT
Jamal Cain (g league) — OUT
Nikola Jovic (g league) — OUT
Cole Swider (g league) — OUT
RJ Hampton (knee) — OUT
Chicago Bulls:
Alex Caruso (toe) — Probable
Dalen Terry (patella tendon) — Doubtful
Lonzo Ball (knee) — OUT
Justin Lewis (g league) — OUT
Julian Phillips (g league) — OUT
Adama Sanogo (g league) — OUT
Onuralp Bitim (g league) — OUT
Projected Starting 5:
Miami Heat:
Kyle Lowry, G
Duncan Robinson, G
Jimmy Butler, F
Haywood Highsmith, F
Bam Adebayo, C
Chicago Bulls:
Coby White, G
Alex Caruso, G
Zach Lavine, G/F
Demar Derozen, F
Nikola Vucevic, C
Betting Lines (at the time of this publishing):
Broadcast Info:
Tipoff: 8:00 PM EST
TV: Bally Sports Sun (Eric Reid, John Crotty)
Radio: AM 560 Sports WQAM & The HEAT Radio Network (Jason Jackson)
Spanish Radio: WAQI 710 AM & The HEAT Spanish Radio Network (José Pañeda)
Come back to Hot Hot Hoops at game time to join our GameThread and chat about the game live with other Heat fans!
Thank you for reading Hot Hot Hoops – Miami Heat NBA Blog. This post is public so feel free to share it.