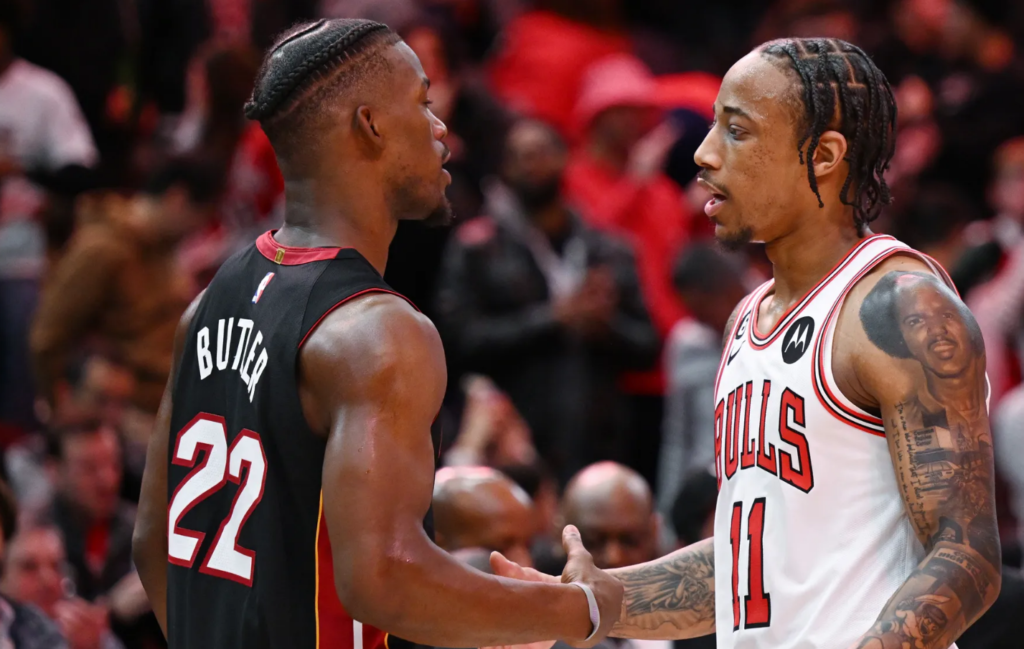 Even after the Chicago Bulls fell down 22-1, they were able to race back and defeat the Miami Heat 102-97 inside United Center Saturday evening, snapping Miami's seven-game win streak.
The Heat's 21-point lead encompassed the first 7:11 of the contest; Miami knocked down nine of their first 12 baskets–with 20 of their 22 points coming from Jimmy Butler, Duncan Robinson and Bam Adebayo. Chicago, on the other hand, missed their first 10 shots but shot 50.7 percent the rest of the way relative to the Heat's 36.7 percent.
The Heat's fourth-quarter woes continued Saturday evening, getting outscored 34-21 after leading by eight heading into the period. Miami now sports a minus-18.4 NET Rating in the final period, only trailing the Phoenix Suns (-25.3) for the worst in the Association.
DeMar DeRozan tallied a team-high 23 points for Chicago–12 coming in the final period. He shot 6-of-12 from the floor, including 2-of-4 from 3-point range and 9-of-13 from the free-throw line.
Nikola Vucevic added 15 points with eight rebounds on 7-of-14 shooting. Coby White had 14 points on 4-of-10 shooting from distance, in addition to three boards, five assists and a steal. Alex Caruso posted 11 points on 4-of-8 shooting, canning a pair of triples himself.
Jimmy Butler led the Heat with 25 points on 8-of-16 shooting. Bam Adebayo posted a 24-point, 10-rebound, five-assist performance on a very efficient 8-of-12 shooting, but had only one shot attempt in the final 19:09 of game time, a big reason why Miami's offense sputtered late.
Duncan Robinson rounded off Miami's double-figure scorers with 17 points and seven dimes on 4-of-5 shooting from 3-point range. Miami failed to get quality bench production out of Jaime Jaquez Jr.–who battled foul trouble throughout Saturday's game–Josh Richardson, Kevin Love and Caleb Martin, who's still easing his way into the season.
It was a complete flip of the script from what we saw over the Heat's seven-game win streak. The Bulls were also a plus-10 on the glass (44-34), a plus-12 from 3-point range (16-12), a plus-10 in the paint (32-22), a plus-five on second-chance points (16-11) with one more assist and three fewer turnovers,
Saturday night marked the first time the two teams played since the Bulls came minutes away from ending the Heat's season in the play-in tournament in April. The Bulls have won four straight regular-season matchups against the Heat.
It also marked the first of two straight games against one another, so the Heat, who are 4-4 on the road this season, will have an opportunity to split the road-road series Monday inside United Center.
***
This is a developing story. Stay tuned for updates.