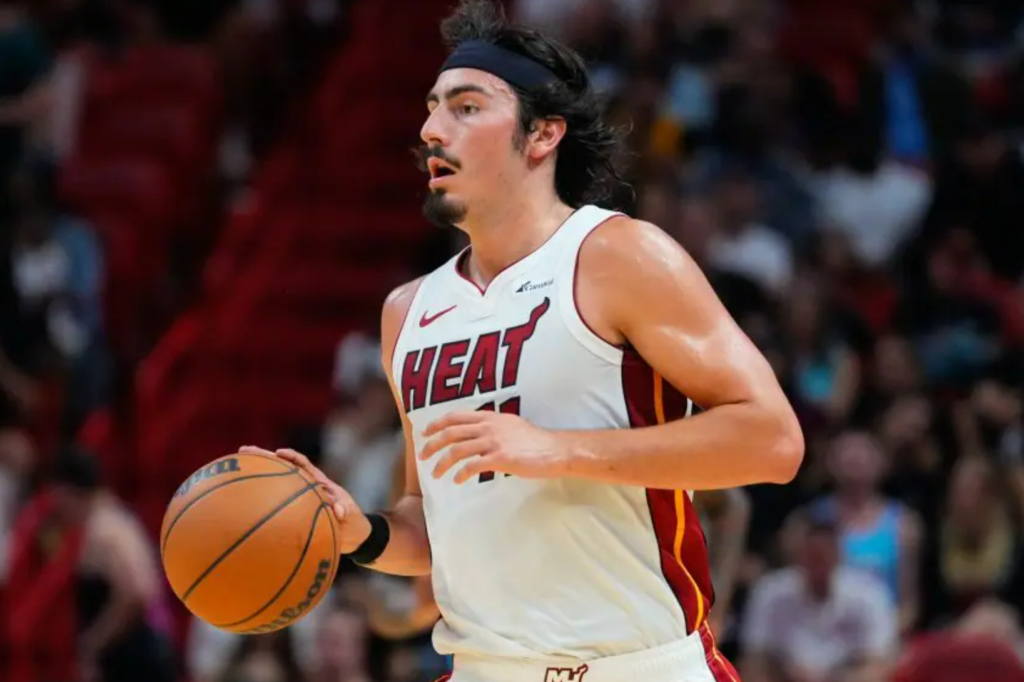 There was a growing consensus ahead of the 2023 NBA Draft that it was a promising draft class, beginning with Victor Wembanyama to G-League Ignite's Scoot Henderson, Brandon Miller and even extending to hyper-athletic twin wings Amen and Ausar Thompson, among plenty others.
The Miami Heat, as we all know, sputtered last regular season as one of the most inefficient teams leaguewide. They finished 44-38 and barely squeaked past the Chicago Bulls–coming literal minutes away from losing their final play-in game–before fashioning a historic postseason run.
Though 32 of the Heat's 44 regular season wins were defined as the oft-famous "clutch" win–a win after the game reached a five-point deficit with less than five minutes left. Every game was practically a grind for the Heat, which ultimately served its purpose in the postseason against stiffer competition. Though it was a trying and tribulating regular season.
Miami's offseason was mired by Bradley Beal and, most notably, Damian Lillard trade rumors combined with losing Gabe Vincent and Max Strus to the Los Angeles Lakers and Cleveland Cavaliers.
Though the one piece of the puzzle buried in the rubble was the addition of rookie Jaime Jaquez, their No. 18 overall selection whose game is omni-reminiscent of the 45-year-old YMCA hooper who's slicing-and-dicing the opposition.
Every situation  and circumstance–player-, rotation- and organization-based–but it's not particularly common for rookies drafted outside of the lottery to garner late-game trust adjacent to a seven-year veteran, let alone three weeks into their NBA careers.
But Jaquez hasn't fit that bill early in his inaugural 2023-24 season. The 6-foot-7 rookie has played every single second of the fourth quarter in five consecutive games; every single one of those games did not finish with a point differential beyond seven points and none of those fourth-quarter leads–or deficits–grew past 16 points–signifying the games were not "garbage time blowouts."
You may attribute Jaquez's fourth-quarter availability to attrition; the Heat have not been healthy the entire season, and only four other Heat players–Duncan Robinson, Haywood Highsmith, Josh Richardson and Bam Adebayo–have played each of the last five games.
Though Jaquez has gained the ultimate trust of head coach Erik Spoelstra and Co.–even before Tyler Herro's injury, and after Caleb Martin's return Thursday–an ultimate testament to how he's progressed on both ends of the floor at this stage of his "Miami Heat NBA adventure." (shoutout Eric Reid)
"All of those things that you need to win on the road and that you would like to develop out of your team, those are his strengths," Spoelstra said about Jaquez earlier this week, according to Anthony Chiang of the Miami Herald. "The grit, the perseverance, the mental and the emotional stability. He's learning things, but he typically doesn't make the same mistake twice. So these experiences in the fourth quarter are like exponential 10x opportunities for him.

"He's earned the trust of the staff, but more importantly he's earned the trust of his teammates. They feel comfortable with him out there and he knows how to fit in. And defensively he can do a lot of different things, which fits into our system."
Through 12 games, Jaquez is averaging 9.2 points, 3.4 rebounds and 2.3 assists on 49.5 percent shooting from the floor with a 57.0 true-shooting percentage. Across his last five fourth quarters, the rookie wing–joining only Adebayo as Heat players who have played all 60 4Q minutes–has averaged 4.0 points, 1.8 rebounds and one assist on 53.3 percent shooting (8-for-15) in the final frame; per 75 possessions, those numbers equate to a respectable 12.2 points, 5.6 rebounds, 3.1 assists and 1.2 steals.
Throughout Jaquez's very young career, he's taken on daunting challenges defensively–having guarded Anthony Edwards, Jayson Tatum, Trae Young, LeBron James, Giannis Antetokounmpo, Mikal Bridges and Desmond Bane, among others–for at least six partial possessions, holding them to a combined 7-of-24 shooting (29.2 percent) with three turnovers, per NBA.com's matchup tracking data.
Offensively, Jaquez is remarkably cerebral with an unflappable demeanor,
He's shown he can operate as a mid- to low-post hub offensively. Jaquez is very good at establishing deep seals in semi-transition against smaller guards and wings, making himself available before help is available.
He has elite footwork with an array of jab steps and shot fakes around the rim; he has showcased the ability to rifle crosscourt skip passes to shooters if the defenses pinch in too far.
The 22-year-old rookie has an adept feel off the ball. He's already beyond advanced at not just cutting–but cutting or peeling into open space, thus making himself available as an outlet in any given possession.
While Jaquez's jump shot is still coming along, his slashing has unveiled a completely new layer to the Heat offense. Jaquez has been a top-3 rim pressurer for Miami this season. He knows how to obtain leverage and bend defenses with his respectable first-step and creativity with the live dribble inside-the-arc.
This year's rookie class has fashioned promising early-season starts; among those not mentioned above were Jordan Hawkins, Cason Wallace, Keyonte George, Chet Holmgren, Derek Lively II, Bilal Coulibaly and Marcus Sasser, among others.
But Jaquez, who could be on track to be the Heat's most impactful rookie since Dwyane Wade, is firmly entrenched in that mix.
Spoelstra's early-season trust–no matter who's healthy–should speak volumes to not only where they see him now, but also where they envision his future.
"Being where I am, being a rookie, you got to take these steps and I just try to keep moving forward, take steps in the right direction and not take any steps back and just do whatever I can to win," Jaquez said earlier this week, according to Chiang. "I think when you focus on what you need to focus on, when you focus on winning, playing hard, playing defense, taking the right shots, good things end up happening.

"I'm just keep trying to make [Erik Spoelstra] trust me more … Keep making him proud. Try not to mess it up. That's kind of where I'm at right now."
***
To check out our other content, click here.