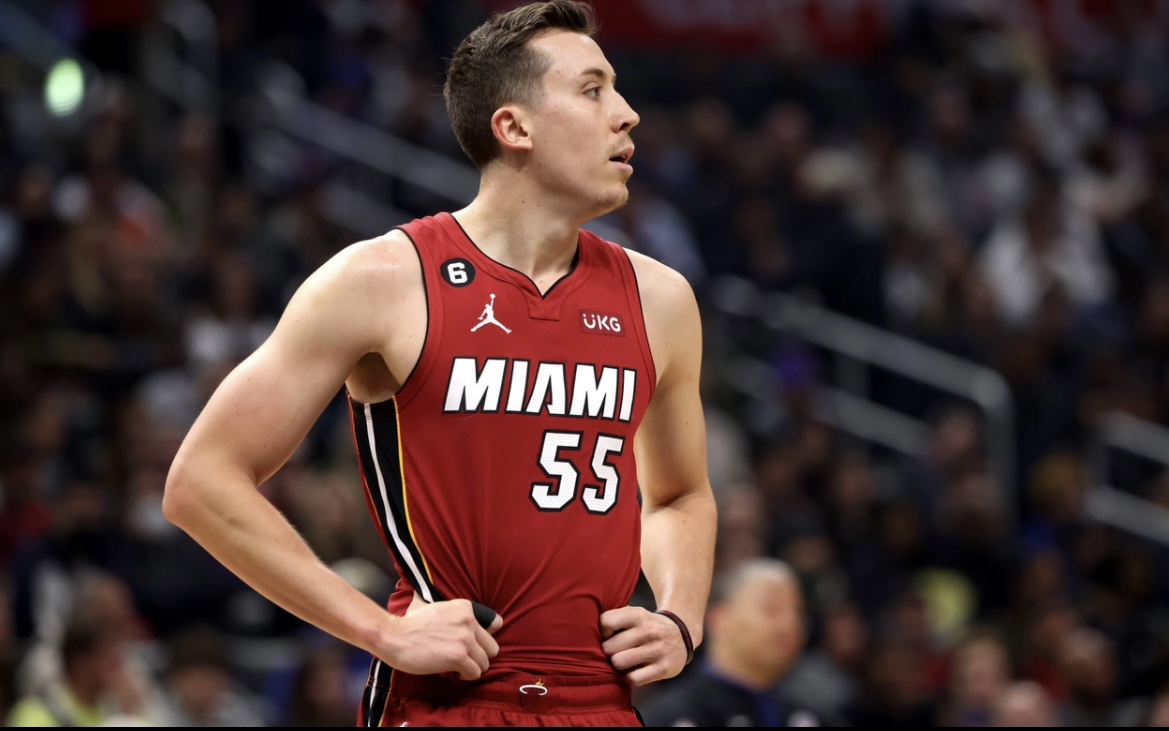 If there is one storyline that this season's Miami Heat has told us, it is that Miami still indeeds 'run on Duncan'. Duncan Robinson is a core rotation player that has been around for several years.
He is the franchise's all time 3 point leader and was inked to a lucrative 5-year 90$ million contract in the summer of 2021.
In today's league, sharpshooters like Robinson are extremely coveted. Mainly because of the generational talent and shooter of Stephen Curry on the Golden State Warriors, it has influenced lots of teams to value shooting a lot more.
However, Robinson struggled heavily to back up that hefty contract over the last couple regular seasons.
In the 2021-2022 and 2022-2023 seasons, Robinson went from a starter to a bench player to a player that wouldn't even see any bit of playing time. Injuries over the years have helped carve out another role again for Robinson, giving him some much needed opportunity to showcase what he could do.
He has always been a super solid playoff performer, even amid being in and out of the rotation. There has been some elite shooting performances from him over the years on the NBA's biggest stage.
Last year's playoff run was different though for Robinson. With both Tyler Herro and Victor Oladipo suffering season ending injuries, Robinson found himself part of the everyday rotation again when it mattered most.
What has shocked a lot of Heat fans from last season in the playoffs specifically, is that Robinson has put in the work behind the scenes to develop into a much more well rounded player.
There were glimpses of him being able to put the ball down on the floor and attack the rim. He showcased the ability to not just finish himself but also play make for others, whether it was lobs to guys like Bam Adebayo or dribble hand offs.
The hand off chemistry between Adebayo and Robinson has become beautiful to watch over the years.
Robinson also was making all the right passes and feeds, along with cutting, slashing and moving very impressively without the ball in his hands.
Maybe the most important thing to note is the improved defense. He has been able to hold his own pretty well on that end.
It is clear Robinson worked hard off the court to develop his game more, and it is still paying off to this very day.
Robinson started this current 2023-2024 season solid off the bench, picking up right where he left off in the playoffs prior. Now, though, with Herro suffering a minor ankle injury it has given Robinson yet another opportunity for more playing time. He has filled in as the starting SG in Herro's place ever since he went down with the injury.
In the last 3 wins, as a starter Robinson has put up:
– 26 PTS, 6 3P, 4 FTM (W vs Spurs)
– 18 PTS, 4 3P, 2 FTM (W vs Hornets)
– 26 PTS, 4 3P, 6 FTM (W vs Nets)
Shooting 51/52/100% in that span (via StatMuse)
In the Heat's 7-game winning streak Duncan Robinson is averaging 17.1 points, 3.4 assists, 3.3 rebounds, 48.2% FG, 41.1% 3PT, and 93% FT in 33.3 minutes a game. (via @statmuse) pic.twitter.com/V38vXj4Hkd

— Naveen Ganglani (@naveenganglani) November 17, 2023
It is very encouraging to see Robinson fill up the stat sheet like this but also doing it while being super efficient. In the San Antonio Spurs win a week ago, he was a team high +22 on the floor.
He has just been so impactful, and the best part of Pat Riley always "running it back" is witnessing the development and progression from this core. Whether it's from the big three of Jimmy Butler, Adebayo and Herro or from supporting cast guys like Robinson.
It is huge for coach Spoelstra to have a young vet like him to be able to plug in as a starter when needed but also be reliable off the bench and never complain no matter what the role is.
He has been a supreme professional in his 6 year Miami Heat career, going back to his rookie season in 2018-2019.
No matter what his role is on this team, whether it's a fill-in starter or bench player, he will be an integral part to what Miami does long term at 29 years old now.
Duncan Robinson is a prime example of a guy who "stays ready" so he doesn't have to "get ready".