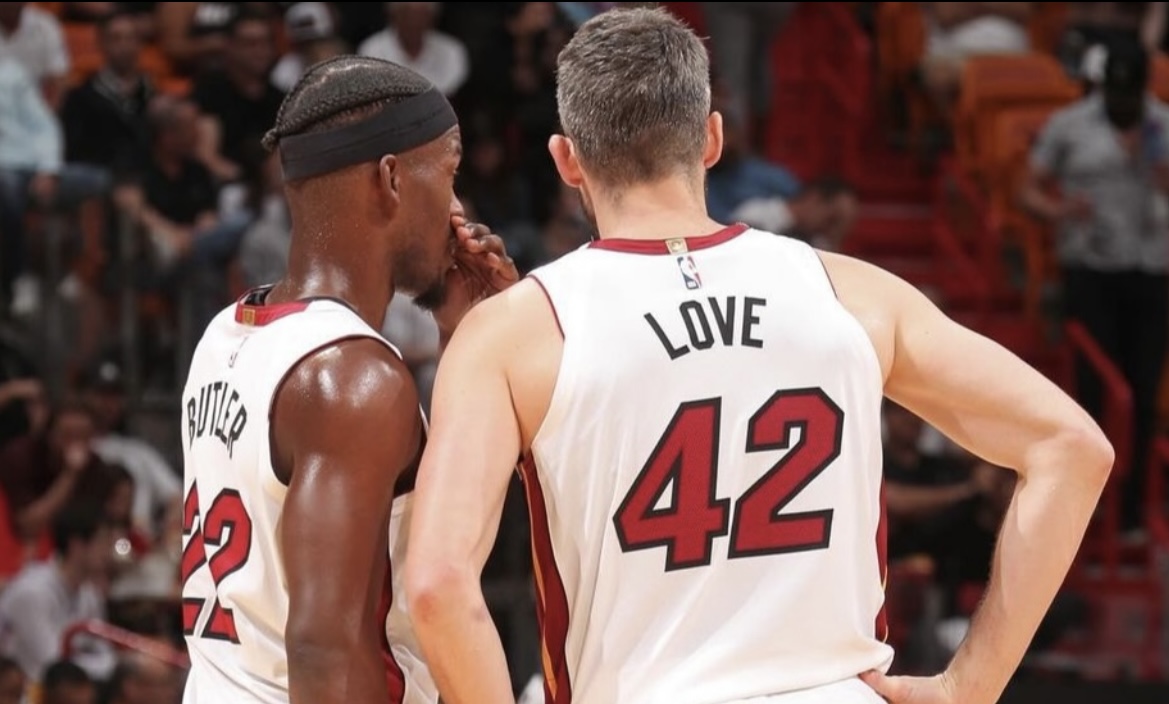 The Miami Heat play basketball tonight. To open another 5 game road trip, the Heat make their first stop in the city of Chicago to take on the 4-9 Bulls.
Jimmy Butler will be returning to the United Center where he spent the first long chapter of his NBA career.
Before Miami's big win against the Brooklyn Nets the other night, they went a perfect 4-0 on their last road trip. These road wins are huge to gain some continuity within the team, and the Heat will look to keep their current 7 game win streak going.
In the Jimmy Butler era, Miami has had lots of success in Chicago for regular season matchups.
The injury report remains exactly the same as the last game, with Tyler Herro the only main core guy listed as out.
The Heat are finally getting fully healthy and it is beautiful to see. Caleb Martin, after his ongoing lingering knee pain to open the season, is not listed on the report at all after playing in limited minutes off the bench on Thursday night. It was Martin's first game since getting limited minutes in the season opener against the Detroit Pistons.
Chicago has yet to submit their injury report at the time of this publishing.
Regardless of the Bulls underwhelming regular season record, Heat fans should know after last season that records don't matter in any game in today's league. Even bottom tier teams can cause problems, and with lethal star scorers like Demar Derozen and Zach Lavine the Heat should not be walking into this game thinking it's a guaranteed win.
It will be important to slow down Derozen especially, and not let the mid range master get to his spots. Haywood Highsmith and Jimmy Butler should be getting a lot of action in defending Derozen tonight.
Nikola Vucevic is also a guy the Heat need to keep off the offensive boards.
Expect to see a similar rotation to what coach Spoelstra put out in the last Nets win.
A starting group of Kyle Lowry, Duncan Robinson, Butler, Highsmith and Bam Adebayo with a bench unit of Josh Richardson, Jaime Jaquez Jr., Caleb Martin and Kevin Love/Thomas Bryant.
After being sent into a now bench role, Love has been very serviceable as a leader and complimentary role player in a back up big man position off the bench recently.
He has been setting his usual charges at ease, been very effective on the boards and has been able to still occasionally spread the floor with his outside shooting.
Even at his age of 35, Love can still be impactful both on and off the court.
Having Bryant still available every night when needed is a luxury. Even with Love now getting the back up big minutes, Bryant is still a big body that is capable of giving solid minutes.
He has gotten spot minutes here and there over the last few games.
As always, eyes will also be on Robinson and rookie Jaquez Jr. who have been playing very well of late.
Butler is also coming off back to back 30+ point performances, and we will see if he can keep that offensive rhythm going tonight against his former team.
Tonight's game will tip off at 8:00 PM ET on Bally Sports Florida.
Injury Report (at the time of this publishing):
Miami Heat:
Tyler Herro (ankle) — OUT
Jamal Cain (g league) — OUT
RJ Hampton (knee) — OUT
Chicago Bulls:
Projected Starting 5:
Miami Heat:
Kyle Lowry, G
Duncan Robinson, G
Jimmy Butler, F
Haywood Highsmith, F
Bam Adebayo, C
Chicago Bulls:
Coby White, G
Alex Caruso, G
Zach Lavine, G/F
Demar Derozen, F
Nikola Vucevic, C
Betting Lines (at the time of this publishing):
Broadcast Info:
Tipoff: 8:00 PM EST
TV: Bally Sports Sun (Eric Reid, John Crotty)
Radio: AM 560 Sports WQAM & The HEAT Radio Network (Jason Jackson)
Spanish Radio: WAQI 710 AM & The HEAT Spanish Radio Network (José Pañeda)
Come back to Hot Hot Hoops at game time to join our GameThread and chat about the game live with other Heat fans!
Thank you for reading Hot Hot Hoops – Miami Heat NBA Blog. This post is public so feel free to share it.