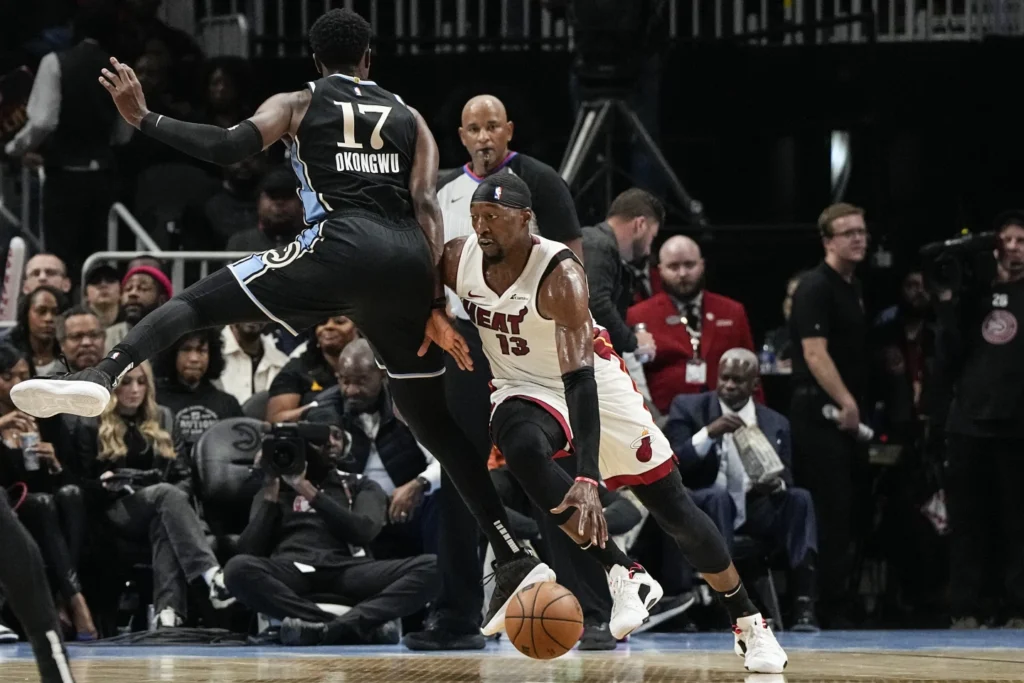 Without Jimmy Butler and Tyler Herro — who will miss the next few weeks with a Grade 2 ankle sprain — the Miami Heat earned their fourth straight victory Saturday evening.
Behind a 26-point, 17-rebound, four-assist night from (super)star center Bam Adebayo plus a career night from rookie Jaime Jaquez Jr., the Heat won 117-109 over the Atlanta Hawks.
Adeabyo shot 9-of-12 from the floor and 8-of-8 from the charity stripe, in addition to one steal and two blocks. Jaquez had 20 points, converting on eight of his 17 field goal attempts with three rebounds, four assists and one steal. Kyle Lowry finished with 17 points, three rebounds, four assists and a steal on 4-of-6 shooting from distance.
Josh Richardson had his best game of the season, tallying 16 points on 6-of-7 shooting and 3-of-4 from 3-point range, corralling a pair of boards himself while finishing a team-high plus-15 (yeah, yeah I know single game plus-minus can be fluky, but Richardson was impactful!). Haywood Highsmith and Duncan Robinson finished with 11 points apiece, though the former recorded six boards, five assists, two steals and two blocks. Dru Smith was also very impactful on the defensive end, no matter if the Heat were in man or zone; he had nine points, two assists, three steals and one block on 4-of-8 shooting in 28 bench minutes.
Miami shot 48.8 percent after knocking down 15-of-22 to begin the first quarter, when they posted a season-high 41 points in the first quarter. It only shot 12-of-38 (31.6 percent) from 3-point range and 23-of-25 (92.0) from the free-throw line. The Hawks shot 43.2 percent and 39.1 percent–18-of-46–from beyond the arc, led by Trae Young and Dejounte Murray.
Young had 27 points and 11 assists on 7-of-20 shooting while Murray had 23 points, five rebounds five assists, three steals and one block on 9-of-16 shooting, including 5-of-9 from 3-point range. Bogdan Bogdanovic had 15 points on 5-of-12 shooting from 3-point range while DeAndre Hunter was Atlanta's only other double-figure scorer, finishing with 10 points on 11 attempts.
Heat have now earned four straight victories over the Washington Wizards, Los Angeles Lakers, Memphis Grizzlies and now the Hawks after their 1-4 start. This marks their second consecutive road victory after losing their first three. Miami will play the third of four on the road Sunday against the Victor Wembanyama and the San Antonio Spurs at 7:00 p.m. EST.
This is a developing story. Stay tuned for updates.
***
To check out our other content, click here.